As an Amazon Associate I earn from qualifying purchases
Want a team up game with your partners? Then you must go for a gun which comes with a different color scheme by keeping the concept in mind about team playing. Among the popular series of Nerf, Rival is one of the most known blasters series to the Nerf lovers.
It is the series of guns which came in the fall of the year of 2015 in a toy fair. The speciality of this series is that it comes with ball rounds feature and for the teens.
You will get a quite good range with these guns at outdoor play as well as indoor shoot and you can also get fun with Rivals. Here you will get ideas about about 10 Rivals in a row to choose the best Nerf Rival gun. So, read through the Nerf Rival reviews for grabbing information.
What is the best Nerf Rival Guns in 2021?
Top 10 Nerf Rival Guns Reviews in 2021
Best Overall: Nerf Rival Nemesis MXVII-10K
Key Features:
Comes with plain brown packaging
Completely motorized function
Includes worthy 100 rounds with the blaster
High capacity with hopper feed
Precise and intense performance in the game
Blue or red-colored blasters can help to team up
Specification:
| | |
| --- | --- |
| Brand | Nerf |
| Weight | 5 Lbs |
| Dimention | 4.76 in x 12.24 in x 29.17 in |
| Battery Required? | 6D Batteries (Sold separately) |
I would like to recommend this one as the best Nerf Rival for its marvelous strikes with high impact balls.
Nemesis is the Goddess from the Greek mythology. She is the goddess of divine retribution who takes revenge. Nemesis MXVII was named after this character which has been a very strong goddess in Greek myth. As the God was a powerful character so the Rival blaster is.
It is a flywheel blaster which comes from the Rival series. This hooper feed blaster comes with 100 rounds with its packaging. The rounds are powerful enough for a head to head game and you will find it a little bit hard so wear an eye-glass to protect yourself while throwing rounds.
Have you a child who is 14 up? This will be fun for him/ her as it is made for them specially. A blaster full with rounds may have a weight of 4 Ibs which is not a good choice for the kids under 10. Besides, its length is also a bit large as it is made for the Nerfers who are above 14.
The hooper can be loaded with 100 rounds at a time so that you don't have to refill it so many times. Just make sure that the slide door of the hooper is closed perfectly with the latch and then pull the trigger. There will be a rain of bullets. Within 40 seconds all of the rounds are ended with good speed, accuracy and fun.
With a Rival Nemesis MXVII you may have more time at shooting while less time at reloading. This is the best thing of this blaster which hasn't even been found in Khaos though the gun is almost similar in their features.
100 rounds without further loading! This is really amazing.
Tips: Nemesis can be powered with 6 D batteries. But do you know that you can get a super speed when cycling 100 rounds only in 13 seconds just by modifying with Lipo battery?
Even the D batteries aren't long lasting. Here lipo batteries can not only increase the speed but also they are durable and the coolest thing is that they are also rechargeable.
You will find a safety switch which works really great.
Another great feature of Rival Nemesis is there are 3 sling attachment points. For both of the right and left handed gamers two of them are at the front, one is at middle and the other is at the latter part of the blaster.
Usually it doesn't make hassle with getting jammed. But if you will find one, just remove the hooper from the feeder and it is really very quick and easy. Then fix it again. Hope your problem will be solved.
You may find it a little bit noisier than the other Nerf blasters. It may be caused by the huger empty space of the hopper. But this part can be modified.
The only drawback of this blaster is that you have to collect all the rounds which are hidden and sprinkled through the place you have the blaster fight. It is a little bit annoying to have these rounds for playing again. It is better if you purchase extra 100 rounds for your game.
Pros
Easy loading hopper
Can pull your trigger fast to fire rounds
Weight is perfect for adults to carry
Can be modified by lipo- batteries to have better performance
Cons
Makes more noise than the other blasters
Rounds are scattered easily
Best For Automatic Blaster: Nerf Rival Prometheus MXVIII-20K
Key Features:
Fires up to 8 rounds per second with an advanced acceleration system
Comes with a rechargeable battery and wall charger
Includes 1x 9.6volt Ni-Mh battery which is rechargeable
Comes with 200 Nerf foam rounds with the package
Velocity is 100 meters (30 feet) per second
Specification:
| | |
| --- | --- |
| Brand | Nerf |
| Weight | 5 Lbs |
| Dimention | 5.25 in x 33 in x 15 in |
| Battery Required? | 1 Litium ion (Included) |
Who doesn't know the famous God Prometheus, who is the God of fire? The blasters from the Rival series are named after the Gods from Greek mythology. Prometheus is one of the most known and mightier characters.
In Greek mythology, he was the Titan God of fire. He steals fire for the sake of mankind. Rival Prometheus-20k is also a powerful game toy for the Nerf lovers specially for the champs who are above 14.
It is fully motorized blaster with the NiMh battery of 1×9.6 volt which is rechargeable. So you don't have to carry extra batteries to continue the play. And you don't have to purchase any batteries. It fires 8 rounds per second. Doesn't it sound unbelievable?
Yes! It is actually true for this beautiful beast. It seems that it works with the power of fire which was carried by Prometheus. Like a bullet hose it just fires the rounds.
For adding more power, it comes with 200 round foam balls while Nemesis MXVII comes with 100 rounds. That means it's just double of Rival Nemesis. But you can use 275 rounds at a time where 200 pieces are included.
You can make a team up play as this blaster comes with two different colored team flags. One is blue and the another is red. So grab the flag and make your own team by fixing it with the Prometheus MXVIII.
If you want the precision then it may disappoint you. Because this piece is able to make a rain of bullets to your opponent and bring down after a while. But this is not a piece of precision.
If something can be suggested both for good looking and extraordinary performance, then I must have to name this blaster without any hesitation.
Pros
The firing rate is unbelievable
The rechargeable battery makes you relieved from carrying extra batteries
Including the number of rounds is 200 which is huge
This giant can hold 275 rounds at a time
Super speedy and easy to use
Both the velocity and power are amazing
Intimidating and cool looking
Comfortable handles
Cons
Difficult sometimes to aim your shot
You have to gather a huge amount of ammo after the completion of the game
Best for Pistol: Nerf Rival Kronos XVIII-500
Key Features:
Breech-loading function
Spring-action mechanism
Having trigger lock and tactical rail
Comes with 5 high impact rounds
Red and blue team flags are included to make a team-up play
Can fire rounds at 90 meters (27 feet) per second
Specification:
| | |
| --- | --- |
| Brand | Nerf |
| Weight | 1.32 Lbs |
| Dimention | 2.52 in x 12.99 in x 7.99 in |
| Battery Required? | No |
Like the other pieces of the Rival series, this is also named by a powerful God, the father of all Gods, Kronos (Cronus). He is the God of time. This Kronos XVIII was launched in 2018 and still is one of the best one from Rival.
It is not like other giant sized blasters. The fun fact is this is worked like a pistol. So you can also use it as a side arm if you need and use Kronos holster.
At first you have to open the breech to load your gun with 5 strong rounds. Then prime it with spring action cocking mechanism which is especially used in this blaster. Target your aim and shoot! As a strater blaster you may choose Kronos. The velocity is outstanding. It is 90 meter per second and accuracy is also compatible.
This black & white blaster is not only good looking but also a piece with high performance. It is best for the indoor plays and for target shooting.
Another praising part of this piece is that it is almost jamming free. There are rarely any complaints about getting jammed in the middle of firing. Isn't it a relief?
Two team flags come with this package. They are red and blue. Besides, this Kronos features the Phantom Corps deco. So, you may team up in 3 different teams such as- team red, team blue and Phantom Corps.
It is really fun to play with the Kronos but try to cover your face and eyes because it may hurt if there will be a close shot.
Pros
Sturdy
Having a high velocity
Accurate shoot
Comfortable grip
Carriable in a holster
Size is quite standard
Cons
A little bit tough to prime for the youngsters as it is made for the children of 14+.
Fewer rounds than the other Rivals
Best for Springer Blaster: Nerf Rival Phantom Corps Hades XVIII-6000
Key Features:
Comes with 60 rounds which can perform strongly
Easy loading integrated magazine
Red and blue team flags are included
100 meter(30 feet) velocity per second
Having spring action mechanism, tactical rail, and trigger lock
Specification:
| | |
| --- | --- |
| Brand | Nerf |
| Weight | 3 Lbs |
| Dimention | 4 in x 30 in x 12 in |
| Battery Required? | No |
Phantom Corps is the group of rouge specialists who change their aim suddenly. As they join with the team red or blue Sunday and then chase them on Monday. So the game changes everyday.
It can be said that Phantom Corps Hades can fulfill the need of ammunition by increasing the amount in 60. It is the highest for the Springer Rivals.
Most of the Nerf lovers became happy to have the slam firing option which is very viable in the Hades XVIII-6000.
As a full auto motorized blaster Rival Phantom Corps Hades can make better performance than the semi-auto blasters. Besides, if you don't prefer much noise while firing, then you will love this one at your game.
Here two flags are included as you need them to play a game by making groups. Attach the flags with the gun or bend them with your wrist and choose your own team by defining red or blue.
Pros
Jamming free
Slam firing option
60 rounds hopper capacity
Easy loading system
Quieter while firing
A great firing velocity
Nice grip
Flags for team up play
Cons
The safety mechanism is not that strong
A little bit weird hop-up system
Shoulder stock is a bit uncomfortable
Best for Powerful Blaster: Nerf Rival Perses-MXIX-5000
Key Features:
Fully motorized blaster
The fastest firing Rival
Having trigger lock and acceleration button
50 rounds capacity which comes with Rival Perses
A 9.6 volt 1200mAH rechargeable battery and a wall charger are included with the package
Specification:
| | |
| --- | --- |
| Brand | Nerf |
| Weight | 4.94 Lbs |
| Dimention | 5 in x 24.13 in x 12.99 in |
| Battery Required? | 2 AA (Included) |
In Greek, Perses means the destroyer. Perses was the Titan God of destruction. The name of Rival Perses-MXIX-5000 then indicates how it would be destructive in the firing ground.
This fully motorized blaster is known as the fastest firing blaster because it can roar and fire 8 rounds per second which is really mind blowing.
The hopper can hold 50 foam balls at a time and these balls are included with the package.
You may think that it is bulky but the weight is not that much as it seems. To its performance, the weight doesn't even matter.
You have to load the balls into the hopper like you do in Nemesis and other hopper feeder Rivals. At the first most shoots, you get super fast fires. As the ammunition is decreased and the battery power gets lower, the speed may reduce.
Rival Perse comes with 50 high performed foam balls. But the hopper becomes vacant within 6 or 7 seconds. It would be much more convenient if an extra magazine could be attached. Because feeding the hopper middle of the game consumes your time.
But the hopper door is pretty much wide that may help you to load the balls easily. Compared to the Nemesis and Prometheus the ammunition is not really enough for this blaster.
An access door lies in front of the hopper. If your Rival gets jammed then clear it with your finger. There is another trigger at the left side of the blaster to open up the hopper if you face a jamming problem. Though you need to open it very occasionally.
You find a sturdy Nerf Rival rail is beneath the blaster which is situated at the front part. So, you may use flash light or other Nerf accessories which you need.
There is a safety trigger both right and left side of the blaster. So, you can use it according to your convenience.
You may find the grip uncomfortable if your wrists are small. But for longer wrists it feels really comfortable to hold and fire.
If you want to make a single fire, this piece is not for you. Because it features super burst fire.
It is really amazing that you don't have to carry any extra weight for the batteries as this one comes with a rechargeable battery pack and wall charger.
Besides, the battery installation system is quite convenient as you don't have to open up the screws. There is a pressing button at the bottom side of the blaster. Just hit it and the battery chamber opens.
So, recharge your toy gun as much as you need, grab it and jump into the game.
The chronograph shows that it can fire 104 feet per second. Isn't it amazingly great? Actually you have to hold it and start a fire. Otherwise, the fun can't be expressed in words.
Pros
Fires extraordinarily fast
Accuracy is satisfied
The quantity of rounds is not too much nor too less
It functioned by a rechargeable battery
Cons
A little bit heavier than the other Rivals
Makes louder noise
Best for Budget: Nerf Rival Artemis XVIII-3000
Key Features:
Slam firing blaster
Comes with 30 high impact rounds
Has a rotating barrel
Easy loading integrated magazine
Specification:
| | |
| --- | --- |
| Brand | Nerf |
| Weight | 3 Lbs |
| Dimention | 4.02 in x 20.51 in x 10 in |
| Battery Required? | No |
This Rival blaster is named after one of the known Greek Goddesses who was the Goddess of hunting, wild nature and holiness. This slam firing Artemis has a rotating barrel which rotates with each fire.
Artemis XVII-3000 Red comes with 30 balls which has great efficiency to hit with full effort.
Like the Apollo, its mag is not removable, it is a fixed, transparent and integrated cylinder magazine. So, you cannot load the external magazine rather than loading the cylinder with the small balls repeatedly.
And there is another thing you need to know that it has an one-way round entrance. So, if you want to unload the blaster, no man! You can't do it.
It has a safety lock like the other rivals to save you from any accidental firing. On the opposite side there is a priming indicator though its purpose is not that necessary.
You have to pull the priming handle with each of the shots and. Sometimes it may slow your slam fire if you are a beginner. Otherwise it is cool.
For close fire I would say that it is a masterpiece to hit your target. Though it is mentioned that the velocity is 100 feet per second, chronographically it finds 89 feet per second.
Tips: 1) The integrated magazine works with a bizarre mechanism. It starts firing from the right side. So, there are 3 mags and fire comes emptying one by one. If you don't fill the right sided one first, then you will have dry fires for the first empty mags.
2) The access of two slings seem really helpful to me. By using this you can set a strap to hang your toy blaster as a secondary arm.
If I want to talk about the grip I must have to praise it. Because it is as comfortable as the priming handle is.
Being a light weighted blaster it is comparatively better than the Apollo and Zeus. Because the quantity of the rounds is pretty enough.
Pros
No jamming
Its weight is perfect
Comfortable grip and priming handle
Accuracy in the shooting
Cons
Having dry fires
Integrated magazine is tough to unload
Best for Shotgun: Nerf Rival Roundhouse XX-1500
Key Features:
Transparent rotating chamber to see the rounds from outside
15 round competency integrated magazine for fast firing
Includes 15 Nerf Rival balls
Spring-action mechanism
Having trigger lock
2 tactical rails to attach equipment
90 FPS velocity
Specification:
| | |
| --- | --- |
| Brand | Nerf |
| Weight | 2.55 Lbs |
| Dimention | 4 in x 30 in x 12 in |
| Battery Required? | No |
It seems like an oversized revolver. The red-black with orange colored Roundhouse XX-1500 holds a round chamber where 15 foam balls can be loaded at a time. There are 5 integrated chambers and each of the chambers carries 3 rounds.
When you prime with the trigger one round is ready to travel through the muzzle while another one is reloaded into the chamber.
The chamber is transparent so while you are out of rounds, You can easily get notified by looking at your round sized mag.
There is one thing which seems a little bit time consuming. It's about reloading. As you have to load the 5 chambers individually with 3 balls in each, it takes more time to fill up the mag frequently.
Roundhouse XX-1500 is almost similar to Kronos in its features. But it holds 15 rounds whereas Kronos holds only 5. Because of having more rounds in magazines, the size is increased a bit in case of Roundhouse.
You get a clear foam ball chamber by which you can count how many rounds are left and get to know when you have to reload.
It is a matter of relief that you don't need any batteries to power your Nerf pistol. It is a little bit larger than the Kronos but it doesn't hamper your performance.
Mainly the round sized magazine takes a huge place that's why it seems larger. A spring primer works for priming the Rival Roundhouse.
There is also a prime indicator. So, you can get a signal while the pistol is ready to shoot. But There is one thing you have to be conscious about.
Sometimes you may face trouble while priming. The cylinder may lock up while pushing the primer handle back forward. If you have this kind of issue, then press the deprime button and fix the problem.
Pros
Size and design is pretty cool
Can be used as a sidearm too
No need to use any battery
Can avoid accidental issues by the trigger lock
Accuracy in targeting
Cons
Time-consuming to load balls
Too big for a sidearm
Best for Semi Automatic Blaster: Nerf Rival Hera MXVII-1200
Key Features:
Mag fed blaster
Semi-automatic single shot flywheel
Easy loading magazine
Dart blaster
12 rounds capacity
Need 6 C, 6 D alkaline batteries or rechargeable batteries
Specification:
| | |
| --- | --- |
| Brand | Nerf |
| Weight | 2 Lbs |
| Dimention | 4.75 in x 19.5 in x 11.5 in |
| Battery Required? | 6 C (Not included) |
Hera is the Goddess of marriage and birth in Greek myth. She is one of the powerful Goddesses. This Hera MXVII is named by Hera as all the Rivals are named after the God and Goddess from ancient Greek history.
This black and white semi auto flywheel blaster comes with 12 rounds mag at a time. You may have several magazines full of foam balls and load one by one mag to continue the foam battle. Though it seems to have fewer balls than the other blasters the performance of this piece is worthy.
You can use 6 'C' or 6 'D' batteries with this blaster. But I would like to anticipate the 'C' batteries because they are lighter than the 'D' one. So it can reduce the weight of your flywheel blaster. That's why you can get more accurate shots.
Besides, for adding more power there is also the access of Rival rechargeable batteries. You can get the velocity of 100 FPS with these rechargeable batteries. But you have to purchase them as the battery is not included with this flywheel package.
Like the other blasters you can find a tactical rail along with an access door above the Hera MXVII. You can rarely find any jamming while playing. In case you need to remove jamming open the access door and clean the jam.
Now let's talk about the grip. I think it has one of the largest grips in all the Nerf Rivals. So, whatever your age or weight is, it may be comfortable for anyone.
Here you get a safety lock switch which is super easy to lock and unlock. Close to the safety switch there is also a rev trigger and prime trigger. Pull the rev trigger and the prime trigger.
Another thing you will have with this package. There is a red and blue team indicator to make the sign of your team. Grab it and fix with the blaster. Then get into a thrilling game with Hera.
Pros
Fires straight
Very light weighted
Usable with C or D batteries as well as the
rechargeable batteries
Accuracy is great
Jamming free
Cons
Fewer fireballs to shoot at a time
Comparatively expensive
Best for Sidearm: Nerf Rival Takedown XX-800
Specification:
| | |
| --- | --- |
| Brand | Nerf |
| Weight | 1.4 Lbs |
| Dimention | 2.63 in x 10 in x 9.5 in |
| Battery Required? | No |
Nerf Rival Takedown comes with the red colored gun which seems like a long pistol. The design seems cool to me, isn't it? It only comes with red but not like the other Rival guns which come with both red and blue.
It is mostly similar to the Kronos. But it has 8 rounds whereas Kronos has 5. It's not a big difference.
On the top of the gun, the internal magazine is situated. Draw the handle back, now you get the breech opened and load the rounds easily into it.
You have to pump the black handle which you find at the front bottom. Pull it back and forward to prime your toy weapon. Then pull the trigger to fire 1 round at a time to take down your opponent.
Tips: Trigger pull is comfortable but it has no access to slam fire. And you should remember one thing that you need to use both of your hands while firing with this piece.
A trigger lock is set there to avoid any accidental shot. And you don't need any battery.
It is great if you need a gun with distant shooting. The velocity of Takedown XX-800 is 90 feet per second and if you can aim your target precisely, it can hit the target by pulling the trigger.
8 strong foam balls come with the package and this spring-action blaster can also hold 8 rounds. Though it seems a very small amount of rounds, the shots are hard and accurate.
If you can hold the gun perfectly, it's not so tough to make the reverse team down within moments.
You may notice when you look at the grip that it's a bit different. It's not like 90 degree straight rather than it seems more curved than the normal pistol. It is very convenient to grip for the long hands as well as the small one.
Here two tactical rails lie on the top of the Takedown. You can attach Rival accessories as your requirement.
Pros
Accurate shooting
Light weighted Nerf Rival minigun
Shoots harder
Cons
Rounds are very few.
Priming is troublesome for some users.
Best for Small Blaster: Nerf Rival Knockout XX-100
Key Features:
Compact blaster with high intensity
Having trigger lock and spring-action mechanism
Integrated storage for a single shot
Fires with the velocity of 90 FPS on average
No battery is required
Comes with 2 round-shaped ammo
Specification:
| | |
| --- | --- |
| Brand | Nerf |
| Weight | 12 Ounces |
| Dimention | 2.13 in x 9.5 in x 11 in |
| Battery Required? | No |
If I talk about Nerf Rival Knockout XX-100, I should say that it is one of the compact and the smallest Nerf blasters. It looks like a small pistol but in reality, it is a bit larger than it seems. If you want a single shot blaster, then this piece is for you to grab.
You can move fast and make a stealthy surprise to knockout during the game with this Knockout Rival blaster.
You have to open the breech chamber with a breech switch. Both sides of the blaster, you have this switch both for the left and right handed users. By clicking the switch the chamber opens and puts the balls into the hole.
You have access to 1 ball at a time. There are 2 round holders at each side of the blaster. 2 of the ammo comes with the package and you can use the Rival balls from any Rival blaster if you already have one.
The priming plunger is a little bit different. It lies under the grip. When you pull it down and then push it up again, your blaster is ready to fire. Now pull the trigger and hit your target with the ammo.
The average velocity of this blaster is 90 feet per second. As it is a single shot blaster, if you try to muzzle the hole with 2 or 3 rounds, then the velocity must fall in 20% to 30%.
You don't need any battery for this cool little beast.
You can choose red or blue Knockout XX. II think it would be fun for you because you get this cool, sturdy and unique blaster only under ten bucks. It is worth the price really.
Pros
The smallest blaster which is comfortably carried by
Efficient shots
Perfect as a sidearm
No battery is needed
Cons
Priming takes time
Included 2 balls are not enough for the new users
Nerf Rival Blaster – Comparison Chart
| | | | | |
| --- | --- | --- | --- | --- |
| Rival Blasters | Best for | Weight (LBS) | Feet per Second | Battery Need? |
| Nerf Rival Nemesis MXVII-10K | Best Overall | 5 | 100 | 6D |
| Nerf Rival Prometheus MXVIII | Best for Automatic Blaster | 5 | 100 | 1 Lithium Ion |
| Nerf Rival Kronos XVIII-500 | Best for Pistol | 1.32 | 90 | No |
| Nerf Rival Phantom Corps Hades | Best for Springer Blaster | 3 | 100 | No |
| Nerf Rival Perses-MXIX-5000 | Best for Powerful Blaster | 4.94 | 100 | 2 AA |
| Nerf Rival Artemis XVIII-3000 | Best for Budget | 3 | 100 | No |
| Nerf Rival Roundhouse XX-1500 | Best for Shotgun | 2.55 | 90 | No |
| Nerf Rival Hera MXVII | Best for Semi Automatic Blaster | 2 | 100 | 6C |
| Nerf Rival Takedown XX-800 | Best for Sidearm | 1.4 | 90 | No |
| Nerf Rival Knockout XX-100 | Best for Small Blaster | 0.75 | 90 | No |
How to Choose Best Nerf Rival Guns?
Rival blasters come with multiple features and designs. When you want to pick your piece, you have to know the things which you have to consider before buying.
Know about the features from Nerf Rival reviews and then it will be easy to decide which one you should sort for yourself. So, grab the best Nerf Rival gun and enhance your collection.
Magazine fed: Some of the guns are magazine fed. If you have a refill pack, you can reload the magazine. Or you can also purchase Nerf Rival 7 round magazine or 12 round magazine for rapid use.
Hopper fed: Some of the blasters are hopper fed. This hopper can contain the rounds according to its capacity. Such as there is hopper with 15 rounds 100 rounds, 200 rounds and so on. You just have to open the hopper and pour the balls into the chamber.
Breech loaded: Another type of round chamber is breech loaded chamber. You have to open the breech and load the balls there as per their capacity.
Integrated magazine: This kind of magazine is a little bit tough to reload. There are several integrated parts which contain balls separately. They rotate and the balls reach to the place from where they fly to the air.
Round capacity: If you want to make a long lasting game, then you must need more ammo to continue. So, consider how many rounds you actually need at a time. Choose your gun according to your need for ammunition.
Single fire or burst fire: Each of the blasters cannot make burst fire. So, keep in mind if your blaster has the option of burst fire or not.
Automated or semi-automated: When you want a precise game with much thrill, the fully automated Rival Nerf gun is for you.
On the other hand, a semi-automated Rival can also make superb shots though the mechanism is always different. Handling automatic guns is easier than the semi-auto.
Weight and size: If you want a new Rival, you must be concerned about the weight and the size of your blaster. Because it is made for the teen as well as the adults.
Some of the Pieces are really big in size and sometimes you find it over weighted for you. So, keep it in your consideration before buying.
Price: We always have a budget when we want to buy something new. If you are a Rival fan, you know that Rivals are a bit expensive. So, check the price if it is worthy for you or not.
Which kind of battery you need: Rivals are compatible with alkaline batteries and rechargeable batteries. Though some of them can be powered by both of these, some are not. So, check which kind of battery is used with your preferred one.
Precision: All of the guns cannot function in the same way. If you are seeking for an intense powered game, then you need a blaster which can make your game precise. But if it would be just for fun, then you can choose from a simple one.
Priming option: Most of the blasters of this series are primed either by accelerating or pumping handle. Before getting one fix in your mind what kind of priming feels comfortable to you.
Additional Information about Nerf Rival Gun
Nerf Rival Series
All of us know that Nerf Rival series is one of the special series of Nerf guns for the Nerfers who are 14 up.
So, they have designed Rival Nerf guns with some extraordinary and cool mechanisms which are different from the other pieces. The first blaster release date was 1st August, in 2015 and it was Apollo XV-700.
Until 2020, all of the Nerf guns Rival came in two appearances. These are blue and red. But in 2020, it is noticed that Rivals come only in red or blue.
You can go for a team up play with this kind of blaster as they come with two colors- Nerf Rival blue and Nerf Rival red. But in 2020 basters have not come with different colors for unknown reasons.
Most of the pieces are either hopper-fed or magazine-fed. Though some of the exceptions like Kronos XVII and others are also included in this series.
There are a total 15 Rival Nerf which were released between 2015 to 2020. Roundhouse XX-1500 and Takedown XX-800 are the most recent Nerf Rival Nerf guns which were released in 2020.
Nerf Rival Ammo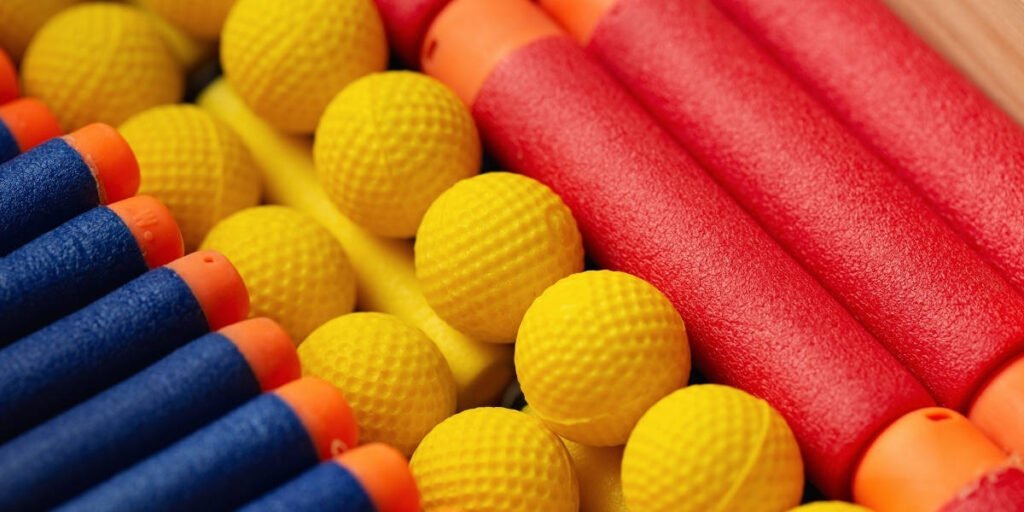 Ammo is included with the different Nerf blasters. But except Nerf there are some third parties who bring Rival ammo in different colors and forms. Here you will get some ideas about different types of ammo.
Nerf official high impact ammo: A pack of 25 balls is loaded with Nerf official high impact ammo. This yellow colored ammo is very firm and compatible with most of the Rival blasters with great performance. With this ammo Rival Hera can make the nicest hits.
Little Valentine Rival Ammo: These are cheaper in price than the official ammo. I wouldn't say that they are not compatible but as the price is lower, there's a little bit of a difference in performance. Valentine ammo is softer than the official ammo.
Lightake Ammo: Red, yellow, orange and dark blue colored balls come with 100 rounds refill packs. Its price is also decent. It is very much compatible with Kronos.
Alonea Ammo: This Nerf Rival ammo comes in blue, red, green, yellow, orange and multicolor packs. Comparatively this one makes better hits. Hera and Kronos get better hit with this ammo.
Dart Zone Fire Strike ammo: These ammo are specially made for Dart Zone blasters. But they are compatible with the other Nerf blasters. This can hit almost like Alonea rounds.
Next X Rival ammo: It comes in a 110 balls pack. These yellow colored ammo are pretty good. But you may find jam with some blasters. Best shots can be found with Hera and Kronos.
Headshot Rival ammo: With 120 balls this one comes in many different colors. The ammo is packed in a bag. This one is comparatively well compatible with Rival Nemesis.
Nerf Rival Accessories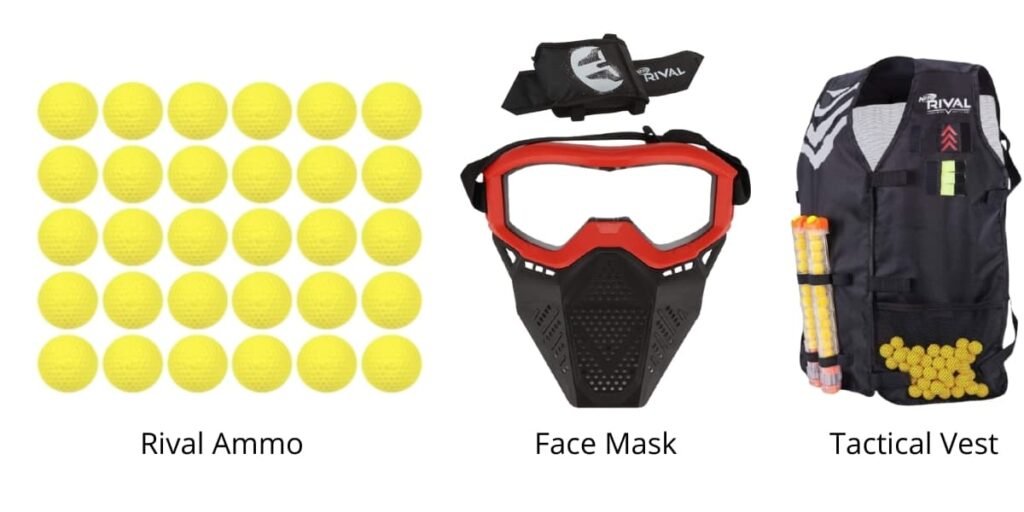 Rival accessories are made for Rival gamers. Except Rival rounds you need different kinds of supporting accessories which are either included with the package or you have to purchase them individually.
Among them some of the accessories are mentioned below which you may need to advance your game and make fun:
Rechargeable battery pack
Refill magazine
Phantom Corps face mask
Nerf Rival face mask red
Nerf Rival face mask blue
Flashlight grip
Tactical vest
Tactical pouch
Blaster strap
Clip
Red dot sights
Nerf Rival scope
Nerf Rival grenade
If you need these you can make your order from Amazon or Walmart and have according to your need. Sometimes battery is not included or damage after using. So you can have them extra.
To protect your face and eyes, a face mask is good to wear. Whatever the game is, protection is must! With scope and sight you can aim your target precisely.
Wearing tactical vest can save from unexpected hit. All other accessories are alo vital for your Rival game.
How to use a Nerf rival
Operating a Nerf Rival gun is super easy as Hasbro has tried to make some cool mechanisms and designs for Rival Nerf gun.
For some Rivals you can use rechargeable batteries and for some of them are played by C or D alkaline batteries. Open the battery chamber, load batteries. Now your Rival is fed the energy to shoot.
Priming mechanism varies one from another. It just differs from the trigger, handle or plunger. You must have prime it before starting fire. Pull the trigger and foam balls start to hit your target.
By using a safety lock, you can be saved from accidental firing. This addition of Rival is really a useful part.
Jamming happens very occasionally. But if you face any jamming, open the jamming door and unjam your toy blaster by pressing your finger.
How Nerf Rival gun works
Rivals came with some different mechanisms. So, you can find different types of functions which are needed for different Nerf Rival wars. Some of the functions are described in short here to have better ideas about how actually it works.
Spring action blaster: There are some springs by which a Rival is operated. That's why the new addition of spring action makes it more powerful and active.
Fully automated: In case of these blasters you don't have to pump or cock your blaster. Fully automated blasters are more powerful and compatible in every kind of battle play.
Semi-automatic: In semi-automatic Rival blasters, there are two spinning flywheels. At first you have to pump the air into the pressure chamber, the ball will reach into the flywheel by pulling the trigger and then your toy gun is ready to fire.
Rival Modification Guide
Though Rivals are made for high performance There is some options you can modify. You may use Rival kits to Modify your gun.
For example spring can be changed as Rivals are made by spring action mechanism. So, when you alter the spring, the range of firing can be changed. Kronos can be modified with Worker 18 KG upgrade spring silver.
Then you can use a 12 round magazine instead of a Nerf Rival 7 round magazine.
Nerf Rival scope can be used with the tactical rails.
If you want to mod your blaster internally then first of all you need a screwdriver to remove all the screws and get into the mechanical part.
You can check Nerf Rival videos to mod yours.
Safety Concern when play with a Rival – Infographic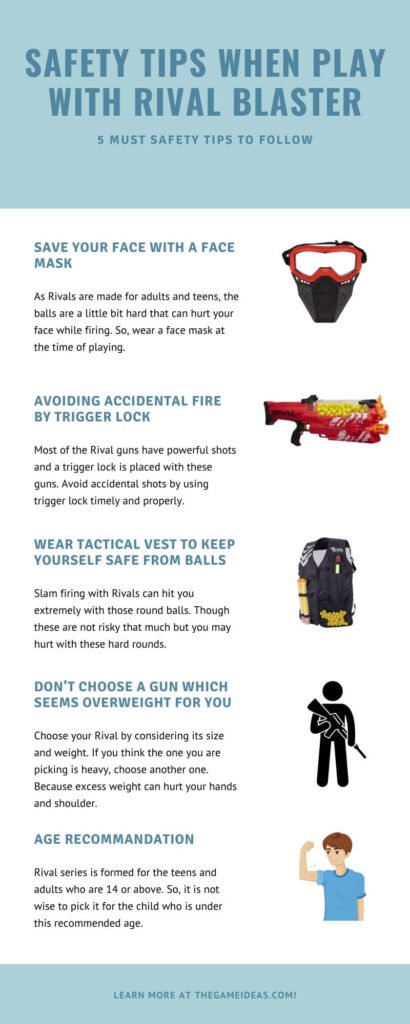 Rivals are not for the kids. So, there are some safety issues you have to be concerned about.
As the foam balls are a little bit hard, try to keep your kids away or far from the play zone. They cannot play with the Rival Nerf guns as they are made by heavy weight.
You can also ask "Does Nerf Rival hurt?" It doesn't hurt that much usually but the velocity of the foam rounds are quite high, so it is better to wear a tactical vest, face mask or glasses which you can easily grab from Nerf accessories.
Frequently Asked Questions (FAQs)
Conclusion
Playing with a Rival gun is really thrilling for your teens as well as for you if you are a Nerf lover. High impact rounds of this series power your play in a beautiful way. So, choose the best Nerf Rival gun from the review and play by gathering team red and team blue.