As an Amazon Associate I earn from qualifying purchases
When you look for more features in anything you may pay an extra for this. It may seem that 50 dollars are perfect for purchasing a toy blaster.
But you will not be disappointed by the features of some of the epic pieces which have the attributes to impress you with their performances.
The best thing is that you get so many Nerf guns which come with a different range of price and this article is written to let you decide which one is the Best Nerf Gun under $50. So, get through the features for the top 5 Nerf guns under $50.
Are Nerf guns under 50 dollars powerful enough?
This question may rise into your mind that if the Nerf gun is worthy or not if you spend 50 bucks for your purchase. That is true that every toy has some defects in some of its parts. On the other hand, some of the features action pretty impressive.
So, the Nerf blasters do. These guns come with some accessories like a scope, bipod, storage stock, larger mag which make a good composition to make a powerful Nerf battle.
Are Nerf guns 50$ suitable for a gift?
If you want to impress with something extraordinary, then these Nerf guns under $50 are perfect as presents. After having one, the receiver will be surprised and happy to have such a toy blaster because they have some captivating features.
A Nerf lover must want to add at least one of these guns for their engrossing features and functions.
What is the Best Nerf gun under $50?
"In my opinion, Nerf Ultra One Motorized Blaster is the best one according to its features and price. Ultra darts are the darts that can make the farthest fly, you may have great experience of dart fighting."
"Nerf N- Strike Modulus ECS-10 Blaster is also the best pick as a $50 nerf gun. Its scope, grip, storage, velocity are quite satisfactory."
"Nerf Ultra Paraoh Blaster uses Ultra darts which fly almost 120 feet. As we recorded Ultra pharaoh has 104 FPS velocity. Its grip is super comfortable for all users of all ages."
"To achieve the highest accuracy, Nerf Halo MA40 Motorized Dart Blaster helps you to hit your target with its advanced features."
"Nerf Centurion Mega Toy Blasters are larger in size so that they can fly to a distant range (Maximum 30 meters) and they are durable as well."
Top 5 Nerf guns under 50 Dollars
Best Overall: Nerf Ultra One Motorized Blaster
Key Features:
25 Ultra darts are included with the package and these are the farthest flying Nerf darts
Rotating dart drum can hold 25 darts
8 more rounds can be stocked in the storage
Unwanted firings are restricted by the trigger lock
Have to pull the rev trigger before turning the firing trigger
Specifications:
| | |
| --- | --- |
| Dimension | 3.25 in x 23.25 in x 11.5 in |
| Weight | 3.84 Pounds |
| Recommended age | Eight Years & Up |
| Battery Required? | 4 C alkaline batteries |
The first blaster from the Ultra One series was brought out by Hasbro on the fiftieth anniversary of Nerf. And that was Nerf Ultra One motorized blaster.
As it was the celebration of the Golden jubilee of Nerf, this semi-auto flywheel blaster was designed with a golden logo. Here you get a brief about this giant blaster.
Mechanism:
Ultra-One is a semi-automatic dart blaster. Like the other semi-autos, it has to be revved before firing. The use of aerofin technology makes this a super-fast and cool blaster.
Trigger & Grip:
As a semi-automatic gun, it has two triggers as well. One is rev trigger and another one is for fire. Its grip lies in a weird place.
As the stock storage is placed behind the grip, you may feel discomfort while holding the grip for firing. Moreover, the grip is small in size. If you have large wrists then it may make trouble for you.
Magazine type & dart:
Ultra-One consists of a rotating round-shaped dart holder which can carry 25 rounds at a time. It is a huge amount of ammo that you get at a time for your Nerf game.
Besides, the Ultra One dart is the kind of dart that is known as the farthest flying dart among the darts that came in the market. With an innovative flight tip, aerofin technology, and all other features it makes a higher flight of the foam darts.
Velocity:
Manufacturers claim that the ammo can fly up to 120 feet. But, We found average velocity nearly 90 FPS.
Durability:
This motorized blaster is sturdy as it is made of quality plastic and its weight can also say this.
Battery requirement:
4C Alkaline batteries are needed to power the gun. But these are not included in the package. So, keep in mind to grab those before you want to start playing. This battery has long durability that it will be amazing to use.
Extra Features:
Stock Storage: Holds 4 Ultra darts on each side of the stock storage which is an advantage for the dart's quantity. So, 8 darts in the storage and 25 darts in the mag. Count this on! Yes, it's 33 in whole. Isn't it a great amount of ammo to fire consistently?
Trigger lock: To save from accidental fires a trigger lock is there with the Nerf Ultra One Blaster.
Pros
Comes with the farthest flying Nerf darts
Mag can hold a huge ammo
Having a great muzzle velocity
Storage stock helps you to reserve extra ammo
Trigger lock ensures safety issues
Cons
A little bit big sized blaster
The grip is comparatively small for the users who have large hands
Best For Sniping: Nerf N- Strike Modulus ECS-10 Blaster
Key Features:
Dual- rail barrel to increase the muzzle velocity
Storage stock for depositing extra magazine and drop grip for comfortable holding
The banana clip holds 10 rounds
Removable targeting scope to make your aim easier
Can construct your gun with more than 30 combinations
Specifications:
| | |
| --- | --- |
| Dimension | 3.27 in x 23.39 in x 13.11 in |
| Weight | 3.65 Pounds |
| Recommended age | 8 Years & Up |
| Battery Required? | 4 AA batteries |
If you are tracing a gun that can be compatible with various types of Nerf battle, then the ECS-10 blaster will be a felicitous pick.
Many people compare it with Strife but in some contexts, it has differences especially between their features. As this is one of the smart pieces in Nerf war, you can make an addition to your collection by purchasing this gorgeous-looking blaster.
Mechanism:
ECS 10 is one of the nicest blasters amongst the semi-automated motorized blasters. It comes with so many features which makes it usable for multi-dimensional Nerf games.
Trigger & Grip: Besides a standard designed foregrip you also have a curve-shaped drop grip that comes with the package.
This one is attachable with a smooth rail slide at the front bottom of your gun. Priming trigger and rev trigger stay close and they properly function while priming and firing.
Magazine type & dart:
A banana clip magazine comes with 10 white-colored darts. But I want to leave a suggestion not to use more than 8 darts for getting better performance. Because sometimes the mag stuck with 9 0r 10 and the speed is lessened up.
And it is best to use only the type of darts which are included with this blaster otherwise your game may ruin.
Velocity:
This blaster has a pretty good range of velocity. As the barrel extension can be increased, the muzzle velocity also grows up with that.
According to the chronograph, it records an average of 72 FPS which sounds cool. If you extend the barrel then the velocity increases accordingly.
Durability:
Comparatively, it comes with more features than the other Nerf guns under 50 dollars. So, some of the parts may less sturdy than the other Nerf blasters in this range.
But you don't have to worry about quick destruction because Hasbro tried to make it as durable as its features are.
Battery requirement:
It needs batteries as a semi-automated gun. 4 AA batteries are required which you have to purchase in itself as they are not comprised with the package.
I would like to add a tip in case of modifying with a better option about the battery. 2 AA-sized IMRs work great with this blaster and they last long. So, you can use this one instead of 4 AA if you prefer.
Extra Features:
Stock storage: You will have stock storage to put another magazine as a reserve. But the thing is this stock sometimes wobble for being flimsy which may hamper your concentration on firing. However, you can make it better by modifying as well as by removing it if you don't need it that much.
Drop grip: A nice-shaped drop grip makes your move much easier as you can hold it at the front and back to balance your gun and aim at the target.
Targeting Scope: A durable targeting scope comes with the ECS-10 blaster which gained good reviews for its making. It's not a magnifying scope but its aiming function is better than the other included scopes which come with the Nerf guns under $50.
Pros
Is compatible with most of the Nerf battles
The extensive barrel can make a great range of muzzle velocity
Targeting scope works well that you can fix your aim easily
Having a drop grip with the foregrip helps you to carry it comfortably
You can modify the gun easily according to your requirement
Cons
Storage stock is feeble and it seems unstable with the moves
Darts cannot fly with consistency as sometimes it makes a distant reach and sometimes just fall upon your feet
Best for Farthest Flying: Nerf Ultra Paraoh Blaster
Key Features:
Bolt action power
Clip-fed magazine
An intimidating and cool looking muzzle barrel is added with the blaster
The extra clip can be added to the stock storage
Trigger lock makes your shots non-accidental
Specifications:
| | |
| --- | --- |
| Dimension | 4.02 in x 30 in x 14.76 in |
| Weight | 4.75 Pounds |
| Recommended age | 6 Years & Up |
| Battery Required? | No |
Ultra-series brought this super cool looking Pharaoh blaster which has golden accents in its features and darts. Nerf fighting with this bolt action spring blaster is exciting as it added some new features for the Nerf users. So, get into the features of this 50-dollar Nerf gun.
Mechanism:
This Ultra Pharaoh is a bolt action sniper rifle. As a bolt action rifle, you have to prime the gun by turning the bolt trigger from front to back and then keep it down as a part of bolt action.
But if you don't down the bolt, it doesn't make any changes in your performances.
Trigger & Grip:
The grip is more comfortable than the other Ultra Nerf. Because it is large in size so that you can fix your wrist there to fire without trouble.
Magazine type & dart:
You have a magazine clip to fed the rounds. The magazine is designed differently. One of its side is transparent and the other side is yellow-colored. It holds 10 darts and 10 golden-colored special edition darts are included with the package.
Velocity:
Likewise, the Ultra One, Pharaoh has a velocity of 104 FPS which sounds great.
Durability:
This golden-powered blaster looks smart as well as it has satisfying durability.
Battery requirement:
This bolt action gun doesn't need any battery as it is spring powered Nerf blaster. Having ground-breaking 10 special addition golden Ultra darts.
Extra features:
Storage stock: Here you get a storage stock for carrying an extra magazine but you have to have the mag separately if you want to make storage of rounds.
Aiming scope: An integrated scope sight comes with the blaster which looks gorgeous with the golden accent.
Pros
Comfortable grip to run your gun
Storage stock can hold more ammo to fight
Cool looking and light-weighted Nerf rifle
Compatible with Ultra darts which are considered as farthest flying Nerf dart
Accuracy and speed are great to run a Nerf war
Cons
The scope is not removable so that sometimes it makes trouble
Best for Accuracy: NERF Halo MA40 Motorized Dart Blaster
Key Features:
The accuracy rate is very satisfying while firing
10 official Elite darts come with Halo MA40
Rail raiser is included with the tactical rai
Game card with an unlock code for the Halo gamers
Attractive access door to clear any jamming issues
Specifications:
| | |
| --- | --- |
| Dimension | 3 in x 32 in x 11 in |
| Weight | 2.43 Pounds |
| Recommended age | 8 Years & Up |
| Battery Required? | 4C alkaline batteries |
Halo is a combat game that was published by Microsoft in 2001. By inspiring this game Hasbro released their Halo MA40 blaster which is one of the nice-looking motorized blasters.
Mechanism:
This semi-auto flywheel motorized dart blaster is powered by an acceleration button and then fire with powerful darts.
Trigger & Grip:
A rev trigger is situated close to the primary trigger as it is no fully automated so you have to make your gun ready with the rev trigger first.
It seems to me that the grip is a little bit congested compared to the size of the gun. It could be larger than it is so that it will be comfortable to hold up the blaster perfectly.
Magazine type & dart:
A magazine holder holds the magazine and it is placed at the back part of the gun. This orange-colored mag looks cool as it performs also very effectively. The shape is smart and you can use it with other blasters.
Instead of this included magazine, it is also compatible with some of the magazines from the N- Strike series such as 10 rounds banana clip, 12 rounds tray, etc. 10 official Elite Nerf darts that come with this package.
Velocity:
With Nerf Elite darts the muzzle velocity is counted 71 feet per second on average. If you compare to most of the guns in the market, this is standard in my opinion.
Durability:
This giant blaster is made in an endeavor to satisfy Halo game lovers. Most of the users have positive feedback about its durability. So, you can pick one without any doubt.
Battery requirement:
4 C type alkaline battery is needed for giving energy to your gun. On the back portion of the toy blaster, there is a battery bearer at the bottom. Unscrew the screws and then feed your gun with the required batteries.
Extra Features:
Rail Riser: Though a tactical rail lies on the top of the blaster technically it is a little bit difficult to attach any type of accessories. But don't worry! A rail raiser is included with the package so that you can just make it higher and add any kind of attachment that you need.
Access door: An access door is placed at the top back of the Pharaoh. This black-colored access door is very easy to open and looks attractive. So, if you face any jamming issues, just open it and clear the jam with your finger.
Game card:
For Halo lovers, a game card is included with an unlock code which you may use as a digital asset in a Halo play.
Pros
Jamming is found hardly
Darts can make an accurate and speedy hit
Rail raiser helps to fix the attachments comfortably
Compatible with some other magazines
It is a lovely piece for the Halo fan for the replicated design
Cons
A little bit smaller grip for the gun holders
Best for Long Range: Nerf Centurion Mega Toy Blaster
Key Features:
Mega sized blaster
Priming with the bolt action
Is extended by the front attachment
6 Nerf Mega darts come with a 6 dart-clip magazine
Included bipod helps you to stabilize your shot
Specifications:
| | |
| --- | --- |
| Dimension | 4.02 in x 30 in x 14.76 in |
| Weight | 4.75 Pounds |
| Recommended age | 6 Years & Up |
| Battery Required? | No |
This mega blaster is decorated with some of the features which are praiseworthy and it also has a gorgeous look.
Mechanism:
Centurion Mega blaster is an automatic toy Nerf blaster. This long-ranged blaster has to prime before starting a fire. An attachable priming handle is included which you can attach any of the sides depending on the right or left-handed you are.
Trigger & Grip:
It has a large grip that you can hold comfortably. The funny and amazing part is that the magazine is so stable that you can hold it as a foregrip if it is needed. The trigger is cushy as well as the grip of this gun.
Magazine type & dart:
It consists of a big-sized mag which can hold only 6 darts. The magazine is as much huge that you have to pull it with both of your hands only if your hand is small.
This 6 dart-clip mag is set in the middle of the Mega blaster. Likewise, the mag, Mega darts are comparatively larger and they are durable too. You can hit with these darts accurately as they are made of flexible foam and hollow tips.
Velocity:
Mega darts are darts that can fly with great velocity as the spring which pushes the dart is also thick. Chronograph shows that its muzzle velocity is 70 feet per second though sometimes its velocity falls due to the lacking of shooting.
Durability:
I would like to anticipate its durability. This heavy-weighted sniper rifle is made sturdy and durable that you don't have any sudden break. The mega darts are powerful like the gun.
Battery requirement:
With this giant blaster, no battery is needed to power it up.
Extra Features:
Bipod: For a 1-meter-long rifle, you must need a bipod to hold itself perfectly, and when the bipod comes with the package itself, doesn't it sound great? This piece is not just a piece of plastic, it is really stable and worthy. By using this bipod, you can control your blaster steadily, fire with more accuracy, and take your game to the ultimate precision.
Front barrel attachment: The gun becomes longer and gets a length of 40 inches with the front barrel attachment. This attachment is pretty much steady and doesn't shakeup.
Priming handle: An attachable priming trigger is included with the gun. You can fix it right or left side according to your need.
Pros
The rifle is built solidly
Mega darts can make a distant flight
It makes a chunky sound while firing which sounds recoiling to the fighters
The grip is pretty much larger and comfortable
Comes in an incredible big size which makes it attractive
Cons
Sometimes the function of the included bipod seems flimsy
Mega darts are a little bit expensive
Nerf Guns Under 50 Dollars- Comparison Chart
| | | | | |
| --- | --- | --- | --- | --- |
| Blaster | Weight | Battery Required? | FPS | Dart Included? |
| Nerf Ultra One | 3.84 Pounds | 4 C alkaline batteries | 90 | 33 darts |
| Nerf N- Strike Modulus ECS-10 | 3.65 Pounds | 4 AA batteries | 72 | 10 Darts |
| Nerf Ultra Pharaoh | 2.34 Pounds | No | 104 | 10 Darts |
| Nerf Halo MA40 | 2.43 Pounds | 4 C alkaline batteries | 71 | 10 Darts |
| Nerf Centurion Mega | 4.74 Pounds | No | 70 | 6 Darts |
How to Choose Best Nerf Guns Under 50 Dollars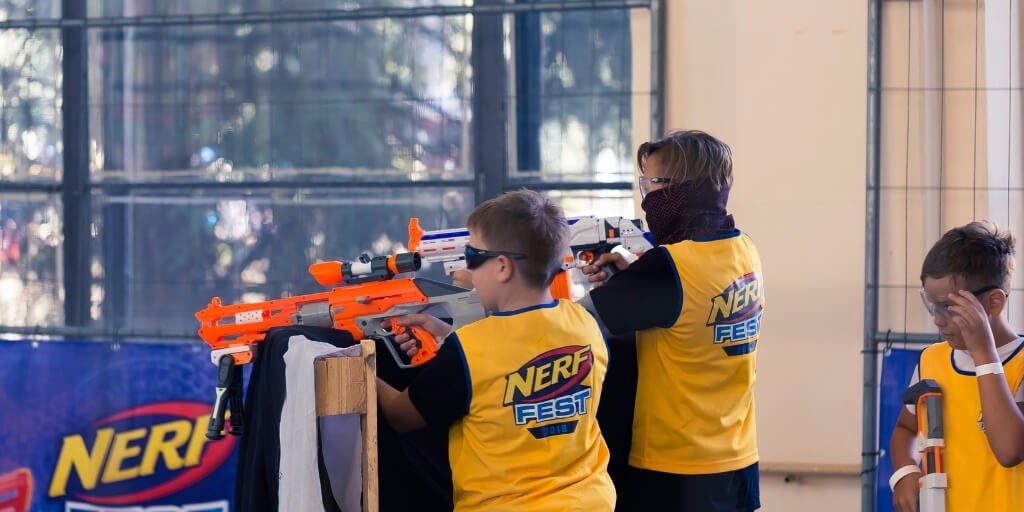 As 50$ is not a little amount so you have to choose your blaster wisely. This buying guide is made for your convenience to have your Nerf gun under $50.
Plastic quality: As these blasters come with so many concerns, don't be confused about it. Let check the quality of the plastic which is used.
Weight and size: Most of the blasters in this range are larger so that you have to be concerned about it that if it is carriable or not for whom you are buying.
Barrel extension: Each of the guns doesn't have access to extend its barrel. So, check it out if you need an extended barrel to increase the muzzle velocity at your Nerf war.
Battery requirement: Some of the users may feel the hassle to operate a gun with batteries. Then you must check which guns are operated with batteries and which are not.
Dart quality: Usually darts are made according to the making of specific blasters. So, all the darts are not compatible with an individual blaster.
Due to the difference between magazine and barrel, darts are also formed differently. Choose the blaster which darts also are durable and make an impressive fly.
Frequently Asked Questions
Conclusion
Now you must gather some tips and ideas about the 50- dollar Nerf blasters. As specific features are mentioned here, it would not be a trouble for you to select the best one.
Hasbro has made these guns for taking your game to a grand level which is fascinating. By operating one's weapon properly and carefully, makes it long-lasting.
So, grab one of these giant-sized and attractive blasters for making your opponent weaker at the game field.
Related Article: