As an Amazon Associate I earn from qualifying purchases
After playing all day with your Nerf guns, you must think about how to store the guns, right? And as a Nerf lover, it is usual to enhance your collection day by day.
It really makes a big question mark as the size of each gun is not the same and sometimes you have to put them in a safer place to avoid cankering and accidental issues.
So, here we are going to write how to store your guns in different ways.
10 Best Nerf gun storage ideas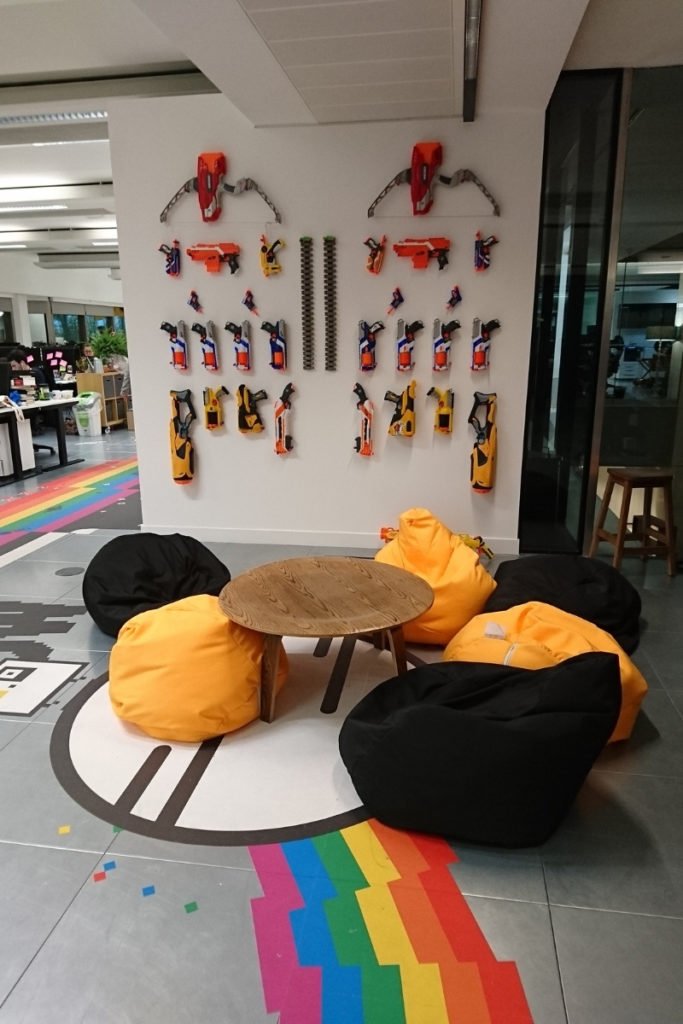 1. Pegboard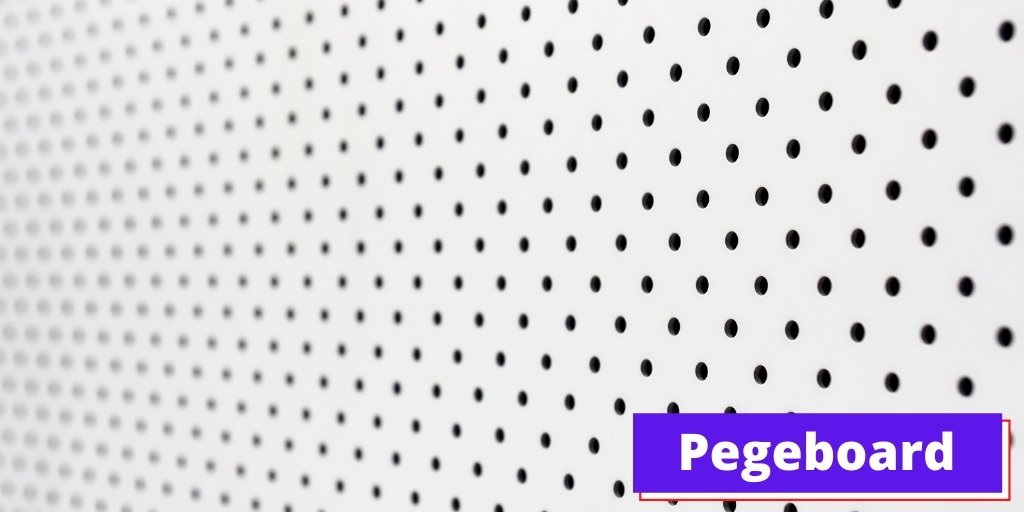 If you are the owner of huge blasters, then this wall displaying pegboard really helps you to arrange all of the blasters nicely and it looks very attractive.
You need an empty wall where you can fix the pegboard. Then you need the boards and hooks to hang the guns.
First of all, you need to make a wooden frame to fix the peg boards on your wall. There are different kinds of pegboards in size. You can pick a large board like 48"/48" or you may attach the small one like 16"/16" vertically and horizontally.
I would like to prefer the small pieces as you can increase them whenever you need to enhance the size of your pegboard with the growth of your collection.
When your board is ready, use some spray color to make it more colorful and gorgeous. Now hang the hooks accordingly and fix the blasters there.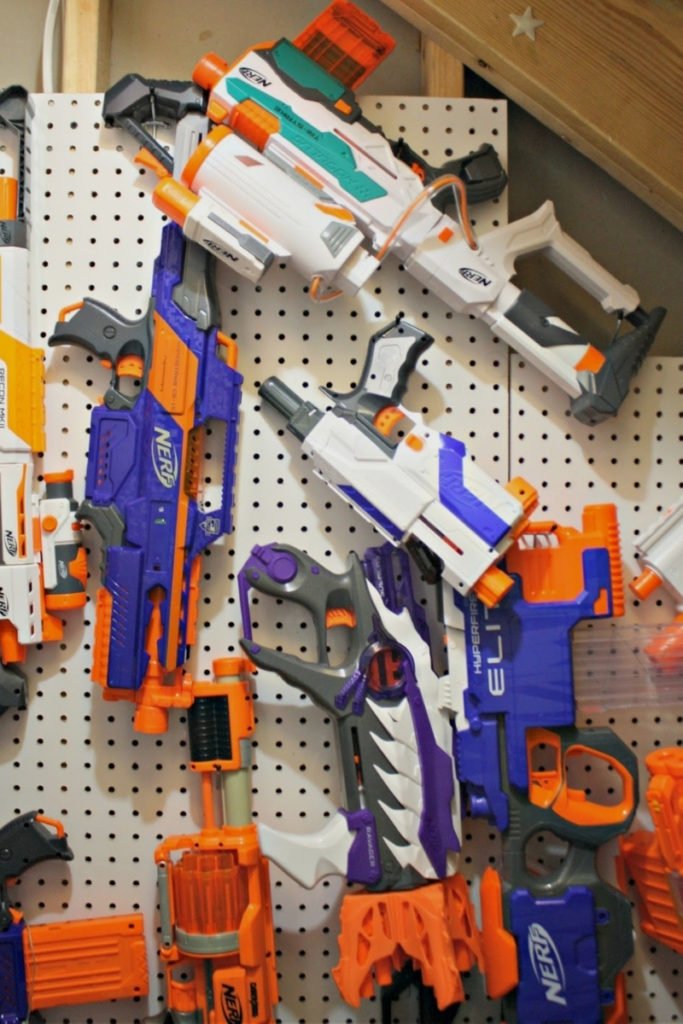 2. Hanging in the closet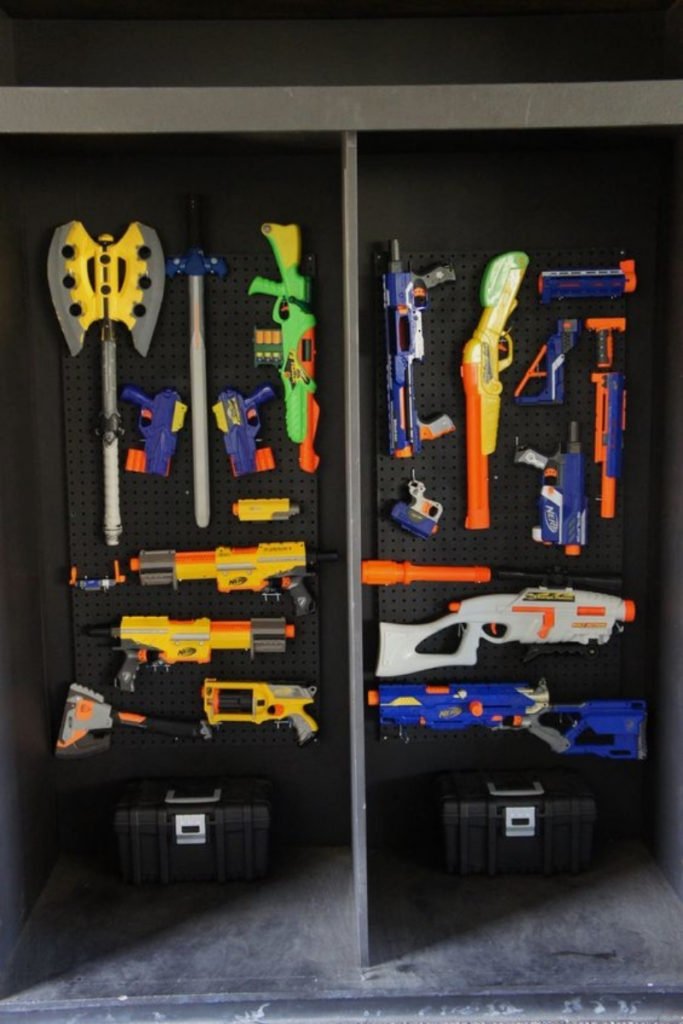 If you are thinking about how to hang Nerf guns on the wall, then go for this idea. A closet can be a good storage for your blasters. If there are some empty places in your closet just hang some hooks or stand to put the blasters there.
Sometimes, we make closets that are not used because there is not that much stuff to be kept. Besides, the closets for babies become empty when he/ she is grown up. So, make this one as storage and make worthy some unused spaces.
Usually, it can be used for the larger blasters which cannot be kept in an open place. And there are doors which can be closed. So, your guns are free from dust as well as they are stored in a simple way that you don't need to make any extra hard work to make it.
3. Excess bin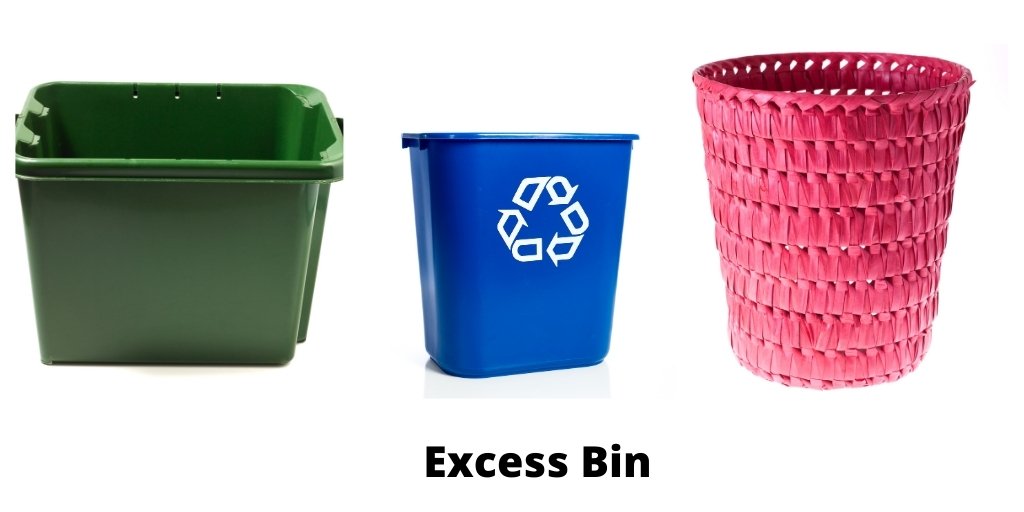 The simplest and easiest place you can keep your Nerf blasters in the extra bin which you don't need at all.
Just place the bin at the corner of your room and arrange the blasters straight in the bin.
Even you can modify the bin by the outside where you can hang the blasters with some hanging pockets which can be tied with the bin.
Color the bin with spray or paint so that it will look more attractive. You can add the name of the Nerf series that you like most of the model's name of the guns.
4. Nerf Blaster rack
Hasbro brought a cool-looking blaster rack for the Nerf lovers. This rack is used for multi-purposes like hanging, Keeping mags, ammo, and so on.
This square-shaped rack has some tactical rails where you can attach your toy guns by sliding. There are also hooks that can be attached to this rail so that you can hang the pieces which cannot be attached by sliding.
Besides, a panel system is included for the heavy-weighted blasters because it is not possible to hang them for their weight. On the other side, some racks are built to keep accessories like ammo, scope, etc.
Moreover, you will find a drawer that can hold ammunition and they won't be lost from the case. Though this rack is made of plastic it is comparatively stronger to hold your Nerf weapons.
5. Door hangers
Door hangers have some pockets where you can keep things separately. Store your blasters in the door hanger which is hanged behind the door so that no one can see it and you can save your space.
But if the size of the blaster is really large and heavy, then you have to find another place to keep your blasters.
Because this is like some pockets which are made with plastic or fabric. When you try to keep any heavy thing in this, then it may tear or ruined.
It is very useful because you can keep here all kinds of equipment which are needed for a Nerf gun. And it is lightly weighted so that you can shift it from one door to another easily.
6. Rolling Nerf Foldout storage
If you are planning to have a store where you can reserve many kinds of guns then Nerf foldout storage is the best for you. It has so many chambers and multiple lockers where you can arrange the whole collection in one place.
This one is very easy to make. Just show the design to the carpenter and ask to make one according to it. Or you can make it by yourself. With some wooden pieces, make the foldout storage as you are required. Here you find the way to make such storage by yourself.
7. Wire rack storage
This one is perfect if you don't have a lot of collections. Just make a rack with rot iron or wire where you can keep your Nerf materials like a showcase. If one rack is loaded then add another one.
Basically, this kind of rack is compatible with the house which has more empty spaces and you can use these places effectively. So, grab this kind of rack and keep your Nerf blasters into it. They are arranged properly and look also nice.
8. Cupboard storage
How is it if you have an idea which you can use as simple and cool storage? Then go for an unused cupboard as your Nerf gun storage. If you want then purchase the cupboard or make it with wood as much large as you need.
As it is hung over the wall you don't need an extra place and you can display them which is out of reach to a baby. So, they remain safe.
9. Hiding beneath the bed
The blasters with long length make troubles to fix them at any place. If you don't have formal storage then there is a better option to keep them safe.
This is beneath your bed. The place is flat and huge so that you can keep them straight under the bed or on a floor mat which you can bring out while it is required.
If you can make a sliding tray that is adjustable to your bed then it is quite simple to pull it and after storing your gun push it. This one is comfortable to have your guns from the under of the bed.
10. Basement storage
If you have a basement at your home, probably you are the luckiest one. You can store all the guns here according to the way you want to keep them.
Make a wooden locker or just place a rot-ironed stand or just keep them on a tool by lying. As the basement is hidden, so they are safely stored.
Even you can make a wall hanger to keep them in an organized way if the basement is not that much large.
Some basements are as large that you can play there too. So, it is a great idea to store your guns there.
Frequently Asked Questions
Conclusion
You are the one who chooses either the guns are displayed or they are hidden. You also know about your living place so it is easier for you to grab one storage out of different types.
Even you can use more than one storage. You have now lots of ideas about how to store Nerf guns at your home. So, make cool storage for your blasters and enrich your collection.
It is just a matter of time when you become have eye-catching storage with so many blasters.
Related Post: