As an Amazon Associate I earn from qualifying purchases
What a thrilling game nerf is for children and adults as well! you can make an indoor party if there is no way to get out for other recreations. But if you want to have a war with your friends or siblings, you have to gather some pieces of equipment to join the battle.
Hosting a nerf battle is not too harsh, but you can follow some steps to make it more organized. Here you get some ideas about how to have a nerf war.
Preparation for a Nerf battle
Choosing a place: You need a place where you can move smoothly and run the game without any disturbance. So, first of all, find a proper place for the game.
Picking up teams: It is good to make two teams if there are more than three warriors. You can name these teams and fix two colors for costumes.
Having guns: Without a nerf gun, it is impossible to have a nerf battle. So grab guns for all of the team members and go ahead for fun.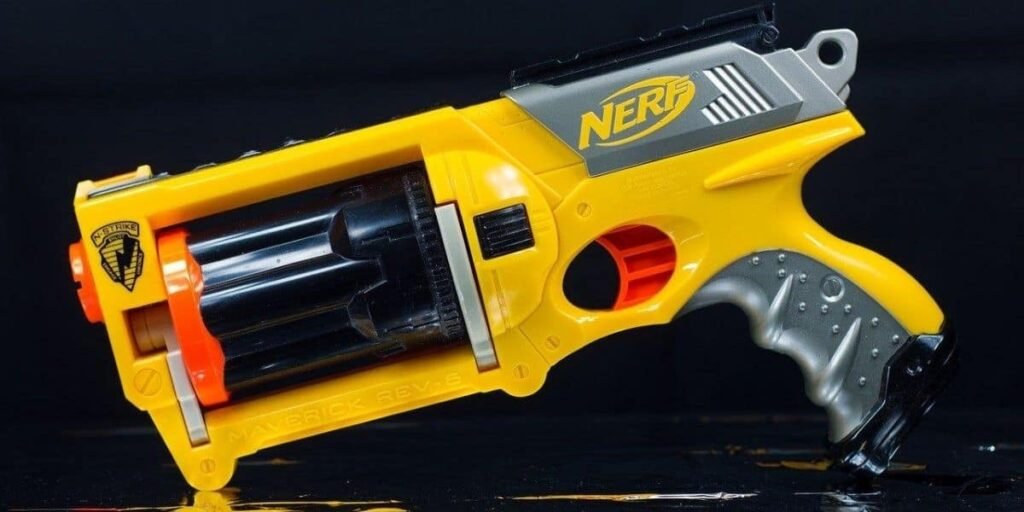 Standard bullets: You need tons of shots to shoot. The bullets with maximum attacking range will help you to get the target quickly. It helps to save your bullets too.
Drinks and foods: You should arrange some light snacks and beverages. Because everyone gets tired during the wartime, pick up some of the food stations where they can grab their meals and drinks to refill their energy.
Nerf challenge: Though it is optional, it increases the enjoyment and excitement much that you should include a nerf challenge in the game.
Some of the thrilling nerf challenges
Nerf challenge is an exciting and creative event that can be included in a nerf party to enhance the party mode to the extreme thrill. The challenges can be arranged differently for children and adults. Here seven thrilling nerf challenges are mentioned below.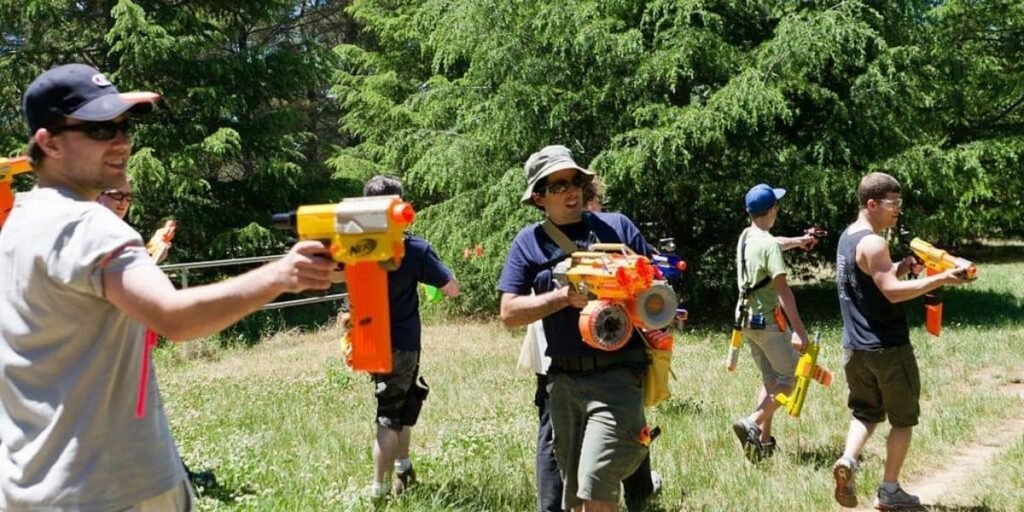 Dodgeball Challenge: You need to have some dodgeballs for it. If there are ten members, you can have 20 dodgeballs. The rule is that each team stands on the two sides of a midline. Then one has to throw the ball to the others. If the opponent can catch the ball, the point goes to them. If the ball is hit to their body, then the thrower gets the point.
Structure breaking challenge: For this one, you can use some empty cans to build a structure like a pyramid shape. One has to break the pyramid by throwing bullets. Points will be courted by how many cans one can move at a time.
Cup roulette challenge: When you make an indoor arrangement, it is very relevant to make this challenge. First of all, you take a dart and hide it under one of the paper cups. Then you have to change the place of the cups and mix them. The opponent team member has to find out the right cup under which the dart lies on.
Grab your point challenge: In this part, two participants from two teams will attend. There will be some pool noodles on the side of a table, and the exact amount of buckets will be on the ground of that side. The players will sit on the chairs on the opposite side of the cans. They start to shoot to the cans. Points will add by counting how many pool noodles ne can throw in the bucket.
Speed build challenge: This one is fascinating. There are two gun parts separated. Two members will be there. They will start to make the gun at the same time. It depends on your sense of accuracy, and you have to get a proper idea about the different parts. The fastest will gain points by setting the gun with all the pieces.
Blind shoot challenge: This is very simple to take. You have to tie up the eyes of two members from two teams. After binding their eyes, count one to ten, and they will move ten steps from their starting point to the opposite sides. Then give an announcement to start for shooting. They will begin to shoot, and if one can shoot another, they will grab points. Continue it for three or four minutes.
Graffiti and painting challenge: If you want to make a creative challenge, it will be best to make graffiti and paintings by the warriors. Each team can decorate their place with spray colors and paints. Two or three independent judges can vote for them and count the points.
As we need real arms on the battlefield, we need some nerf arms for the nerf battle. When you can explore the battlefield and have all the accessories, you'll be ready to have a nerf battle.
The best options where you can place a war
A place with open space is handy for a nerf game. It can be anywhere near your house or in distant places.
If you have a backyard or roomy space behind your home, you don't have to go for a commercial site. It can save you money. But you have to arrange all the tools like pallets, guns, bullets, aprons by yourself.
A nerf venue will be costly, but if you want to avoid the hassle for arranging things, you can go for a particular place or site with full arrangements for the game.
If your house lies near a wood, you can arrange the game there. Trees, bushes are natural hiding places. It doesn't need a new arrangement for hiding.
Even you can make one inside your house. If the home is significant, you can use the corners, doors, or furniture to shoot. Children can use the guest room for making a battle. They can gather cushions and folding tables as their armors.
The basement is also a perfect place to have a war arrangement. You can make the site ready with shield and other instruments. It will be a good option as it lies under the house, and nobody can interrupt during the wartime.
Arrangement for a Nerf birthday party
As children are the biggest fan of the nerf war game, it's exhilarating to have such a party on their special day. For arranging a party, some tools are needed to be arranged first. Here's a list below:
An open space: First of all, a free space is required to run a nerf game. It costs much if you want to arrange one at any commercial place. You can choose a location like your backyard of the house. The area should not be huge, but it has to be open for quick movement.
Hideout foundation: The party place has to be arranged with several hiding places from where they can run the war. There are different kinds of shield areas. It can be made with DIY bases, pallets, tires, barrels, etc.
Color spray: If the place gets colorful according to the vibe, it seems more festive. Even they can make their team sign with a different color of spray color.
Nerf guns: There is always a debate about nerf guns that if you should buy the arms to the children or not. It's good to ask them to have their weapons by themselves. But it is vital to have the guns which can be used with standard bullets.
Nerf bullets: You have to purchase tons of bullets for the game. The off-brand bullets are better for a party, and they work well.
Safety glasses: Accident is an uncertain event in any game. If an occurrence happens then, the total fun of the game is ruined. So you should be aware of Nerf safety by providing them with safety glasses. It will protect their face.
Nerf party gifts: If it is not possible to give them the guns, it's okay. But they will be excited if you can arrange a surprise gift bags or aprons with chambers for them. You can keep some bullets, safety glasses and toffees inside it.
A birthday cake: A theme-based birthday cake will be a great surprise for the kids. You can bring it at the ending time of the game. You can take it too when the party starts. Kids will love to have a cake designed with nerf party tools like guns, camouflage, wooden hideout pallets, etc.
Party set up: An entrance is a significant part of the party. When you welcome them warmly, put a square table covering with bright table cloths. Then it seems relatable welcoming if you place an apron lying on the table with safety glasses, a nerf gun, and bullets on it. Besides, you can arrange bandanas in two different colors. When they enter the party, you can bend it on their arm or forehead.
Frequently Asked Questions (FAQs)
Conclusion
When you get bored, you can throw a nerf war party with your fellas. This gathering will release your stress and make you relaxed. It doesn't need too many instruments. So what are you waiting for? Now you know how to have a nerf war. Let's grab your gun and have an exciting time.
Related Post: