As an Amazon Associate I earn from qualifying purchases
For decades nerf war has been working as an entertainment source for all ages. To enjoy this endless fun, some nerf lovers store different nerf blasters, nerf pistols and the list goes on. You'll see people arranging big parties with the theme nerf war. But to enjoy the fun safely, you have to follow some basic nerf war rules.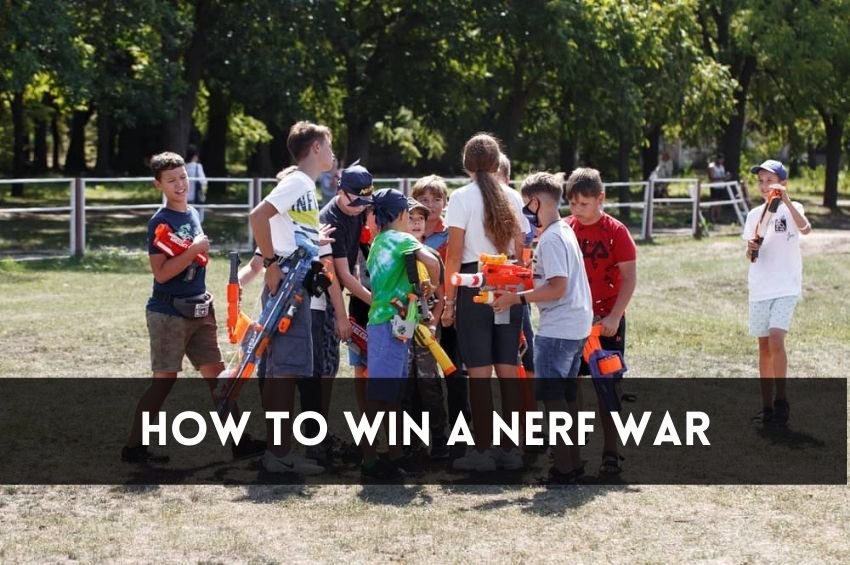 So, how to win a nerf war? If you get sniped with a nerf dart or foam ball, then you're out of the game; a team member of the opponent team will go out in the same process. The winning team is who has more team members than the other team.
If you are totally new to this concept and don't want to embarrass your teammates by getting out in seconds without fighting, then this guide will enlighten you about winning a nerf war game.
How To Win A Nerf War: Winning Rules With Proper Guidelines
Following nerf, war rules are the first thing for a player. Nerf wars come with different variations and each one has its own rules. If you are capable enough to follow all the rules, then you will be a renowned nerf player in every upcoming battle.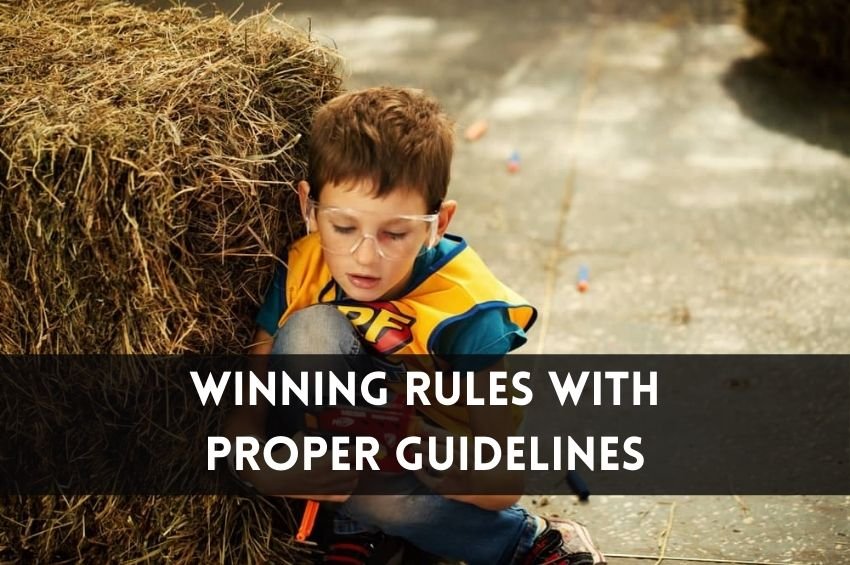 Before entering a battle, you and your friends need to know about the type and rules of the game. If you're new to this, then check out the types of battles and rules given below to play with fun.
1. Death Game
You need more than 3 people to play the game. Deathmatch comes with different kinds; you can choose any one of them to play as a team.
This one is the easiest one among all the types. There will be a spawn point for each player in this match where they will restart the game after getting shot. Also, you've to fix the game length time before starting the game. This game is all about shooting people as much as you can and the winner will be the one who has shot the most.
The rule of this match is quite similar to the swift fire match, but the difference is that the one who gets shot with a nerf dart or foam ball will be entirely out of the game. The winner is who has saved himself from getting shot.
2. Bring The Flag
You will need 4+ members to play this match. There will be two teams, and each team will have different color flags. The game is to pass the line between the groups, grab the flag without getting shot than come back to own unit. If you get shot, then you've to start again from the beginning. The team that has the opponent's team flag on their side is the winner team.
3. Playing Zombie
This match requires 5+ team members. This match is the most popular among all the nerf war variations.
Two or three players will be made as zombies, and the rest of the players will be on the mission to eliminate the zombies. And the zombies will try to tap the other members to turn into zombies.
4. Protecting VIP
You have to gather 6+ members for this match. You've to pick two VIPs for each team then divide the rest between the two groups. The mission is to save the VIP and the winning team is them who can save their VIP from the other team.
How To Win an Indoor Nerf War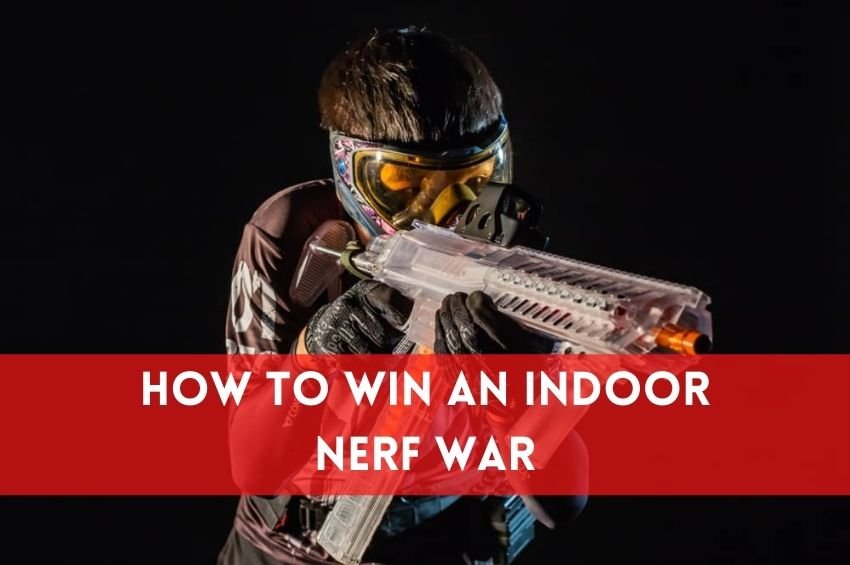 There are different ways to play a nerf game with friends and family. You can also connect with local players online and invite them to your den. In this section, you will find different points that will help nerf games to play at home.
If you have a gigantic backyard in your house, then you have the perfect place to arrange a grand nerf war event. Keep your storeroom, restroom free for that day as the rooms will be required for storing ammo, blasters, and other things.
Pick a holiday to play the game. Keep plenty of time in your hand before starting and ending the event. If you want, you can arrange food for all or tell the players to bring their own snacks to get themselves refreshed during break time.
A big team makes a nerf war fun and competitive. Try to recruit as many people as possible to make the event successful. For indoor games, try to avoid the professional ones as they will show up with a modded blaster. Ensure that all players come with nerf gear for security reasons.
Arrange Different Play Modes
There are kinds of nerf wars, but none are suitable for indoor games. You can arrange to play like –
1. Playing golden eye 007, where each team will play with a low-capacity nerf blaster
2. Shooting with nerf blaster with darts
3. Building and fighting from a fort
4. Human vs zombies game
5. Upfront nerf war
How To Win An Epic Nerf War
This part is for those who are waiting to play a professional nerf battle. Being a nerf warrior is not easy, but one can be the popular one by applying tactics and strategies.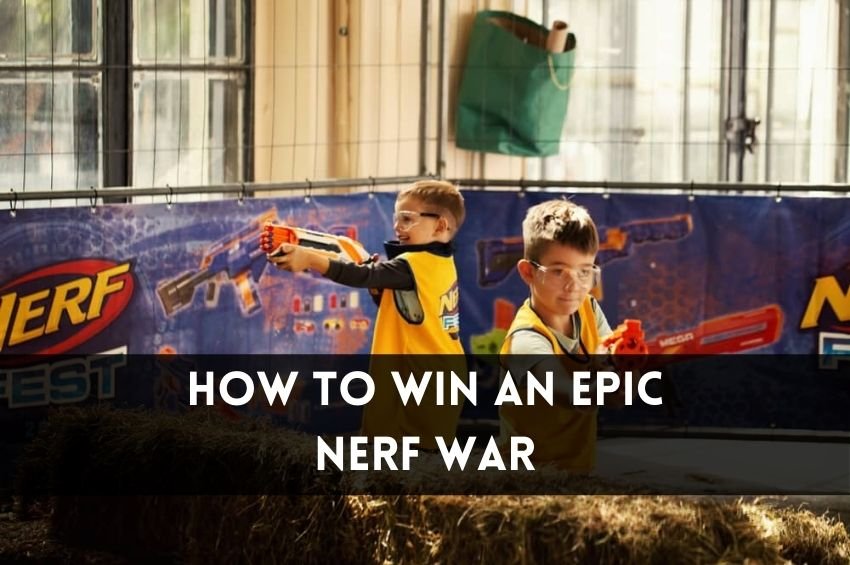 Here are some quick nerf war strategies you can follow to develop your game skills and be the best nerf warrior.
The first condition of winning a nerf war is to form a perfect base that will be able to protect you from any type of attacks and let you store ammo to use in a battle later.
Fight from protective barriers.
You've to build a defensive wall in the base to keep the guns, ambush enemies without getting exposed.
If you can store a huge amount of darts, then you can use the intimidation strategy. When the enemy team approaches your fort, shoot with your motorized blaster to force them to return.
When you have less ammo, wait until the enemy is close to you. Once they are compact, shoot with two blasters and win the game.
While defending the enemies, if you're out of ammo, then get into a safe place and gather more ammo. Then go back to the battlefield with full force.
Increase the fire rate and ammunition amount to ambush the enemy team. Avoid reloading a blaster if it still has ammo left. Keep a battle belt with numerous full clips. Don't use damaged darts, or else your weapon will get jammed in the middle of the battle.
Even if you have loads of ammo, don't waste the darts. Shoot whenever the enemy is in your range. Try to keep another nerf weapon to use in an emergency, like not having darts.
Stay hidden and lure the enemy.
Don't stay exposed even the enemies are not around. Stay hidden and wait. Make a false situation about you're out of ammo. This technique will make your enemy come to attack.
Keep the plan simple and fast.
Don't make a confusing war strategy. Play it smartly, like using code language, carrying light weapons, and ambush.
FAQS:
Conclusion:
These are the basic rules of how to win a nerf war. One has to follow the strategies, tactics to make a nerf war memorable. Try to participate in every battle to develop yourself. Let your kids enter into this type of fun battle as it will help them stay entertained during the summer and spring months.
You may also like: