As an Amazon Associate I earn from qualifying purchases
In ancient days, archery was a powerful skill to survive. So, the arrow was one of the major equipment for hunting animals as well as getting into the war amongst clans. Do you want to feel how these bows work with arrows as a fun game with your clans? Yes, you must want to experience this. Hasbro is there who comes with the best Nerf bow to thrill you by holding arch and arrows on your arms.
Hasbro has included so many arches and arrows in their addition. So how do you choose the perfect one that you are searching for? You have to know the ranges, perspectives, and different functioned arches before your purchase.
Here we will try to give a pinpoint idea about the best bows and arrows of Nerf from different series. Let's get into the details.
Best Nerf Bows and Arrows
Editor's Choice – #1 Pick
If someone asks me to recommend the best toy arch, I should say that Signature Bow is the coolest, biggest and smartest one . If you like the big size, you can add it to your collection as your Nerf toy.
It comes with a length of 42 inches (around 106 centimetres) . The amazing part is that it comes with an arrow target so that you can practice and improve your efficiency to make perfect stunts.
Show off your accuracy with its high flying arrows. 2 smart arrows come with the package. Hold your toy weapon, knock your arrow and pull the string. Let it fly up to 105 feet (32 meters).
Whistling sound comes from the gorgeous arrows while fluttering into the air. Firing is quite easy and perfect with this Dude Perfect Nerf Bow. Arrows don't fly chaotically like the cheaper one.
Moreover, it is usable both for right and left handed individuals for its symmetrical design. You may find difficulties with its big sized arch as it can't be folded. But this is not a big issue. You can hang it on the wall or keep under your bed.
Therefore, the price is not too high and it's also not that low. This is the perfect one for you if you want to have a great experience of archery.
Pros
High ranged flight.

Accurate shooting.

Usable both for right-handed and left-handed individuals.

Strong arrows.

The whole family can have fun with it.



Cons
A little bit large to hold for kiddos.

Including the quantity of an arrow is not sufficient.
As the zombies are getting stronger and active, you have to choose your fighting materials according to the way you can fight back. There are 2 zombie strike arrows included with the blaster.
You get a string and have to fix it to prime your arch. There is an indicator which just appears when the string is locked to prime the bow blaster.
The main grip is small in size but pretty much comfortable than the other blasters. The fore grip saw blade is not much needed there to hold with the other hand.
The super silent launching arrow makes your opponent surprised when it just whistles in the air. It seems cool especially at night; they become just puzzled when they hear the hissing after popping out the arrow.
Moreover, it results in 64 FPS with chronograph which is also impressive. You can carry this tiny zombie strike even in your backpack. Considering its size and price, its functions are impressive.
Pros
Pretty silent

Light-weighted

Small and comfortable grip

No jamming

Reasonable price
Cons
It has no tactical rationale to set a scope

No arrow storage
To feel the real bow action, this N-Strike StratoBow is considered as one of the best Nerf arches. It comes with an integrated 15 dart clips which can index manually to the next dart one by one. The best part is this StratoBow is you don't have to reload until you accomplish all these 15 darts.
Turn the string behind, aim your target and then let off the dart fly into the air. It will reach up to 85 feet (26 meters) away. Chronographically, the average range is 80 FPS (feet per second). In some cases users refer to it as 65 to 70 FPS also.
The internal AR (air restrictor) slaughters it from damage during the dry firing. You may face difficulties when you hold the arch on your shoulder as its tips are too sharp.
However, this arch blaster is safe considering the accidental firing issue which is caused by auto-indexing firing in some arch blasters.
Pros
Operated without any batteries

No accidental firing

15 darts in a row without reloading
Cons
Rattles too much sometimes
Its heaviness may be a fact of discomfort
This one comes from the N-Strike Elite series and Sonic Ice sub-series. The blaster is designed with a transparent blue layer cover where the mechanism can be seen as the chewable sonic ice floats on the famous drink named sonic ice.
It comes with 10 mega darts and you can only use a mega one with this blaster. Whispering in the air, these darts fly up to 100 feet (30 meters). I think it's a pretty good range.
Unlike the Sonic Ice Centurion, it does not have those blue Sonic Ice Mega darts. This cool and chill arch fires by pulling the string back. A green release light at the back helps you to get a perfect shot most of the time.
The gray colored grip is also comfortable to hold the arch. If you want a durable blaster, Sonic Ice Thunderbow may satisfy you with its stability.
Pros
Durable toy arch

Easy to play.

Fires 5 darts in a row without reloading

Included enough darts
Cons
Only usable with mega darts
The name Zombie Strike Outbreaker is another one from the Zombie Strike series. It makes you thrilled about a fight with the zombies who are also gathering their power. This bow blaster is mainly designed with some fun patterns of equipment.
It reflects the zombie striker's techniques to make their arrow with some scrounge parts from the battle place. The seizure shaped priming handle, pliers shaped grip are the symbolic part of this outbreaker. Its handle makes discomfort slightly. Though the design is cool, it is not best to hold the archery toy.
However, it comes with a rotating drum of 5 darts. This real functioned crossbow gives you a dart blasting defense. Prime your arch and make it ready to fire. Push the trigger each time to unleash a single dart.
It can reach up to 63 FPS according to chronograph. If you don't want a super comfortable bow, you may choose this one. Because it functions pretty well when shooting.
Pros
Flexible string for children

5 darts without reloading

Jamming free.

Pliers shaped grip
Cons
The grip is not comfortable

Less darts than other bows
This cool designed crossfire bow comes with 4 zombie strike elite darts. The darts fly over 75 FPS on average. But it also varies from 75 to 85 feet and sometimes farther.
If I want to talk about the accuracy, it can get points for this. For close shot, its accuracy is quite impressive, but it's not the greatest for the remote shooting.
Not only with the included elite green darts, you can also use the orange and blue one on the dart hole. Most of the time, the shot from the first chamber has a better velocity than the lower chambers. Its string is so strong that it would not break easily.
There is just one tactical rail on the top of the bow blaster, no other tactical rail at the down part which may be helpful sometimes to attach flash light or other necessary parts. Out of all these issues, most of the users get its functions flexible and good.
Pros
Well-functioning blaster

Fires with super accuracy

Smooth prime trigger

Nice grip to hold

Quite fast-flying darts
Cons
A little bit bulky for the kids

Included fewer darts
This Charmed toy weapon is one of the charming bows from the Rebelle series which comes with 3 charms and 4 designed Rebelle darts. It's a colorful arch with the charm bracelet which gives it a fancy look.
One of the charms is the Leadership charm, featuring the winged Nerf Rebelle logo. Then the bow-and-arrows Championship charm and another one is the double-infinity-symbol Strength Charm.
To the Nerf fighters, it may seem a little bit frustrating as its shooting accuracy is not that much impressive to the Nerf arch fans. It is so tough to hit at your aim with this one. But as a starter, you may choose this one.
It can run up to 75 feet (22 meters) according to the manufacturer's claim. Besides, it's safe for the children to use.
Pros
Light weighted

Simple functioning

4 darts flying without reloading

Good for the starter and the kids
Cons
Less accuracy

Not worth considering the price
This Rebelle Epic Action is one of the smart pieces from the Rebelle series. I love this one because there is a storage stock of 2 darts with the toy blaster so that you can have a total 3 darts near your hand.
One dart is in the arch hole and 2 darts at the storage. The package comes with 3 foam purple colored darts with blue tips.
For its easy function, you may pick this for kids from the Rebelle Nerf series as well as the adults. There is a priming indicator at the back of the blaster. When you draw back the cord, the indicator gives you a signal.
Fire the darts through the air. The grip is relatively small to hold. So it's a little bit uncomfortable for some while gripping. But I think Nerf bow and arrow girls would love this one.
Pros
Light-weighted

Easy to handle for the kids

Having storage for extra 2 darts
Do you have a cool nerve to play adventurous hunger games with Nerf arch? There are a total 4 darts included, 1 is to send messages and another 3 is regular foam darts. Though the claimed range is up to 75 feet, the chronograph result for average velocity is 50 FPS.
You don't have to prime this one. Just pull back the string hard and release it very fast to unleash the darts. Be conscious about the string as it hits sometimes your arm. Wearing a full sleeve can save your hand from sting.
The strong AR function of this Strongheart brings accuracy through the dart fly. Most impressive part of this blaster is its secret message delivery addition by adding a decoder.
So you can let your teammate pass any information to fight back. If you are seeking an arch for target practice or an exciting Nerf game, let's hang in with this Strongheart blaster.
Pros
Light-weighted and smart

Well functioned

4 darts blasting in a row without reloading

Secret message sending decoder turns the game into more fun

Accuracy and consistency in shooting an arrow
Cons
Sometimes the string can hit your arms

Occasionally darts get loosed from the dart whole while firing
If you are a female Nerf lover, you will be amazed to know that Nerf brought Heartbreaker through the Rebelle series. It has been launched with a girly design and color. With the simple design it looks great.
5 darts are included with the Heartbreaker. There is a tactical rail on the top of the body where you can fix the attachable dart storage board. You can put each dart in the barrel from the storage.
Though the claimed distance of firing is 75 FPS, most of the time it lacks to reach that far. Sometimes it just ends too close from your position. But the darts are soft and safe.
So, the little girls will love it as an indoor game as well as at the back yard by teaming up with the siblings and friends. Priming this Rebelle bow is a matter of concern. Turn the string back fully; otherwise you can't prime this toy arch.
Pros
Fun bow specially made for girls and ladies

Removable storage board for darts

Comfortable grip

Perfect for an indoor activity
Cons
Less accuracy and inconsistent performance

Priming is a little bit complex



Buying Guide to choose the Best Nerf bow and arrows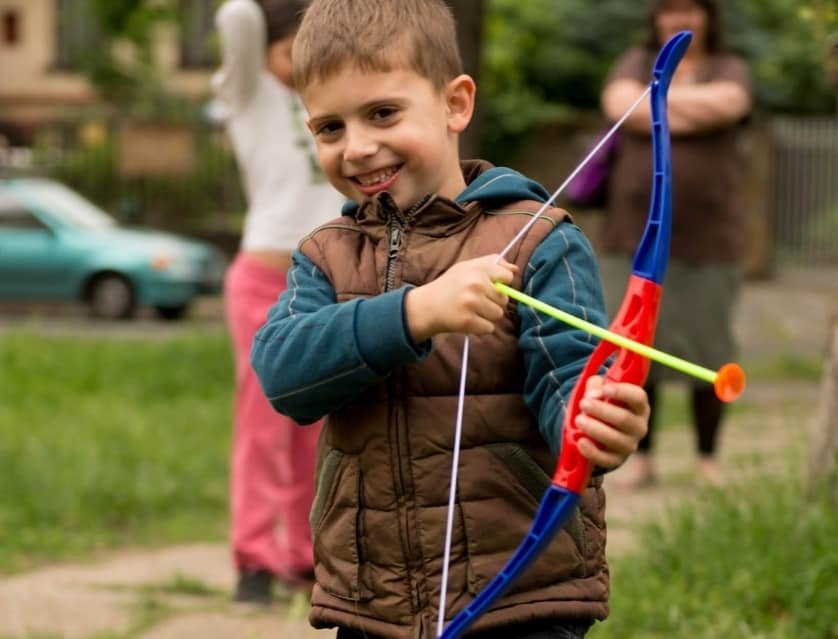 Before going to have your bow and arrow set, you should consider some core things about this. Let's know which one you should choose according to the arrow speed, weight, dart holding capacity and the other features.
Velocity matters: Each of the Nerf arches has their own speed and ability to reach at the point. You may purchase one for target practicing, team up game or else. So this is very important to consider about the velocity of your arrows when you seek for your toy weapon.
For kids or adults?: First of all you have to decide if you will grab the arrow for the children or adults. In this case the weight, size and shooting mechanism are prior to look on.
Kids bow and arrow has to be light weighted, shorter in length and easy to operate. On the other hand the grown up loves to play with the toys which have multiple facilities and are exciting to run-on.
For male or female: As the bows and arrows come with different colors and designs, you need to choose for whom you are buying this.
As if it's for a female one, then you can choose the bow from the Rebelle. Most of the models come with pink and purple color which most of the girls love. Pick one according to the taste of the individuals.
Weight of the toy: If you don't like to carry the heavy one, then pick the light one. Notice the weight of the bows and choose it according to your height and weight.
For indoor or outdoor?: Playing Nerf is fun both at the indoor and outdoor. If you don't have an open space then choose the Nerf bows and arrows depending on the size of your room. But when you have a back yard or garden to play, then choose the high ranged arrows.
Amount of dart and arrow: Some of the bow comes with 4 or 5 arrows or darts. If you think this amount is less then choose one which has enough arrows for you.
How the grip is: Holding your bow comfortably puts an effect on your game strategy. If the grip is small and uncomfortable, it may distract you from the expected performance. So grab the right one according to your wrist size and comfort.
Primer: Priming your arch is one of the basic functions you have to go with. Sometimes, priming is easy and at the same time it can be a little bit complicated.
When you are determined to buy a bow toy, be aimed at the eminence of the primer of the different bow blasters and guns.
Air Restrictor function: Nerf bows with strong air restrictors can make your weapon more powerful. It makes accuracy and consistency for flying arrows or darts. So keep it in your mind when you purchase yours one.
Is the price worth it to purchase?: There are different kinds of bows and arrows. So the price variation is must. Before buying your Nerf bow and arrow, look at the price of the bows and select yours according to your budget. Beside that, be conscious about the quality of the toy if it is worth or not to buy.
Frequently Asked Questions (FAQs)
Final Thought
As one of the biggest toy manufacturers, Hasbro makes fantastic Nerf bows and arrows for archery games. This is tough for you to choose the right one to pick if you don't have the overall idea.
But now it is pretty fun to choose your bow as here we include 10 best Nerf bows in a row. So grab your preferred one from this chart and get involved in the play with your family and friends.